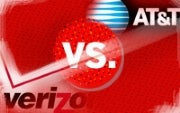 Verizon may follow in AT&T's footsteps and introduce tiered, limited data plans this year, Businessweek reports.
Businessweek spoke with John Killian, chief financial officer of Verizon Communications Inc., on Thursday. Killian suggested that Verizon might move from unlimited data plans to tiered plans as 4G (fourth-generation) network technology gains traction.
Verizon already plans to introduce tiered plans for its 4G network, which will reportedly provide 10 times faster data rates than the older networks.
This rumor comes just a couple of weeks after AT&T pulled the plug on its unlimited data plan and introduced tiered pricing. AT&T's mobile data plans now start at $15 per month for 200MB of data, and go up to $25 per month for 2GB of data (plus $10 per additional gigabyte used).
The AT&T tiered pricing caused somewhat of a backlash online, with AT&T users threatening to jump carriers for unlimited data–and now it looks like those users may have to change course if they were thinking of going over to Verizon.
According to Killian, its smartphone users use between 600 and 800 megabytes of data per month, similar to what iPhone customers consume. Verizon's smartphone users currently make up 17 percent of its customer base, but Killian expects that smartphone users will eventually make up 70 to 80 percent of the company's users "over time."
AT&T announced its move to tiered data pricing just weeks before the new iPhone 4 will hit the market. Perhaps Verizon's suggested move to tiered pricing is the harbinger of another Verizon change: the Verizon iPhone.
We can hope, can't we?