Apple's total iPhone user base may reach as high as 100 million users by the end of 2011, according to Morgan Stanley analyst Katy Huberty. In a widely reported research note, Huberty expects to see about 42 million iPhones sold by the end of 2010 and that number could reach as high as 48 million, as reported in Fortune. Huberty's prediction is bolstered, at least in part, by Apple's recent announcement that it sold 600,000 iPhone 4 devices during the first 24 hours the new smartphone was available for pre-order.
Huberty also believes that more than half of current iPhone users will upgrade to the new device this year, which could bolster demand for the new device among non-iPhone users. The reason for such a large number of upgrades is that more than half of all U.S. iPhone owners are using the original iPhone or the iPhone 3G, Huberty says. Both devices have hardware limitations that prevent them from using some of the new features in the upcoming iOS 4 operating system, which will be released to current iPhone users on Monday. The original iPhone won't be eligible for the OS upgrade at all, and the iPhone 3G is incapable of using iOS 4's new multitasking feature. So the incentive to switch to a more capable iPhone from older versions of the device will push demand for the iPhone 4.
New U.S. users who don't have an iPhone may be attracted to Apple's new device, because of AT&T's new tiered data plans that can drop the overall cost of owning an iPhone by almost $400. The variety of new features available in the iPhone 4, most notably the device's front-facing camera, may also contribute to the iPhone's predicted growth.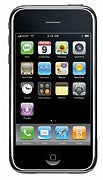 Huberty's forecast that the iPhone will more than triple its user base in the next 18 months is a dramatic prediction, to say the least. However, Apple's iPhone has experienced rapid growth before. In early 2009, research firm Gartner reported that Apple had more than doubled its market share in just one year from 5.3 percent of the market in 2008 to 10.8 by 2009. Currently, Apple holds about 28 percent of the U.S. smartphone market, according to Nielsen.
Smartphones are the fastest-growing segment of the mobile phone market. Worldwide smartphone use grew by 48.7 percent between the first quarters of 2009 and 2010, according to Gartner.
Connect with Ian on Twitter (@ianpaul ).