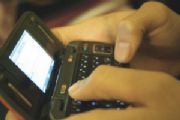 Adults are guilty of the dangerous activity of texting while driving more often than teenagers, according to the Pew Research Center's Internet & American Life Project. The Pew study also revealed that adults are substantially more likely to talk on a cell phone while driving than teenagers.
According to the study half (47 percent) of all adults who text have done it while driving. That compares with 34 percent of teens (aged 16 to 17) who text. The survey revealed that 74 percent of adults that own cell phones have talked while driving, while just over half (52 percent) of teens with phones have talked while behind the wheel.
The dangers of cell phone distraction go beyond cars, though. The study found that 17 percent of adults claim to have physically run into another person or object while talking or texting on a cell phone.
A study from last year by the Virginia Tech Transportation Unit revealed that those who text while driving are 23 times more likely to have a crash than non-distracted drivers. It also found that activities that took a driver's eyes off the roadway, like dialing a phone or reading or sending a text, was much more likely to cause a crash than just talking on a cell phone.
Currently, 28 states and Washington D.C. ban texting while driving. Seven states and D.C. also ban cell phone use while driving. Even President Obama has gotten into the act, telling federal employees not to text and drive while in government vehicles.