With the Galaxy S Pro, Samsung has what looks like a hot Android phone on its hands, if only the company can get people to pay attention to it.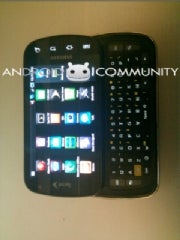 Android Central's anonymous tipster dished the Galaxy S Pro's specs, and heaped on superlatives such as "gorgeous" and "fluid." Indeed, the phone's hardware looks comparable to other modern Android devices, with a 1 GHz processor, 480-by-800 resolution Super AMOLED screen (possibly 4 inches), a 5-megapixel camera with 720 video capture, a front-facing camera and 802.11 wireless b/g/n. There's even an additional SIM slot, suggesting that the Galaxy S Pro is ready for world travel.
Note that the Galaxy S Pro is different from the Galaxy S that Samsung revealed in March, but not by much. The main distinction in the Pro version is a sliding physical keyboard that runs lengthwise. Both phones run Android 2.1, with a version of Samsung's oddly-named TouchWiz user interface. The full list of wireless carriers isn't known, but a photo from Android Community shows Sprint branding for the Galaxy S Pro, and AT&T plans to sell the Galaxy S as the Samsung Captivate.
Unfortunately for Samsung, its Android phones have lived in the shadow of HTC and Motorola. According to AdMob (PDF), which measures mobile ad impressions from apps and Web sites by phone, Motorola's Droid leads the Android pack in the United States, followed HTC's myTouch 3G and G1, Motorola's Cliq and HTC's Droid Eris and Hero. Only after those phones does Samsung's Moment find a spot on the top 10 list, and the Behold II is nowhere to be found. That doesn't necessarily mean Samsung's phones aren't selling well, but Motorola and HTC phones are being used more often.
The difference with Samsung's Galaxy S and Galaxy S Pro could be a more recent version of Android. When Samsung released the Moment and Behold II, both running Android 1.5, Motorola had just launched the Droid, which ran version 2.0, and even HTC's Droid Eris sported Android 1.6. The Galaxy line's inclusion of Android 2.1 puts it in step with Verizon's Droid Incredible and Sprint's HTC Evo 4G.
On paper, Samsung's upcoming phones look too good to be the runt of the litter. If they get a competitive price and a not-too-distant launch date, they could finally get some market share, and mind share to boot.