By the time my roommate, Sarah, invited a strange man from Australia to stay with us for a month, he no longer seemed like a stranger to her. They had met each other online through a British dating Website, exchanged numerous personal e-mail messages, and eventually communicated through intensive, all-night Skype sessions. Sarah felt like she knew Mr. Australia so well by then–had fallen in love with him so deeply, in fact–that she hardly blinked at inviting him to stay in our apartment for a month. And he didn't think twice about springing for a $2000 plane ticket to fly halfway around the world to see her.
But as soon as they met in person, it became clear that love at first online encounter would translate into thorough disappointment at first sight.
The dating world isn't the only place where people hook up online before they meet in the flesh. Employers increasingly screen job candidates on the Internet before bringing them in for an interview or hiring a new employee. Travelers arrange carpools through Craigslist with strangers they don't meet until they're alone together in the car. Parents use the Web to find nannies. Grown children go online to find caregivers for their parents. There is no limit to the virtual matches made among strangers, and new services facilitating such pairings pop up every day.
So what can you do to minimize your chances of making a mistake–of wasting $2000 on a plane ticket or flying in a job candidate who is all wrong for the position? Take advantage of the ever-growing number of ways to poke around online first, experts say.
Search Engines and Aggregators
Before hiring, dating, or otherwise engaging with a person met at a distance, it's always wise to start with a basic Google or Bing search. But that's not the end of such screening capabilities these days. A few new services aggregate data from various sources of public information into one place.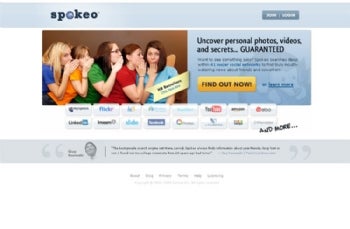 Spokeo advertises itself as "not your grandma's phonebook," and offers searches by name, e-mail address, or phone number. (You can also enter your e-mail password and have Spokeo crawl through all your contacts.) It collects information from more than 40 social networking Websites and other sources of public information, and aggregates everything in one location. The data includes demographic details about a person's location and neighborhood, their Pandora playlists and Amazon wish lists, and their shared photos, videos, and blog posts; together, all of those details add up to a more vivid picture of the person in question.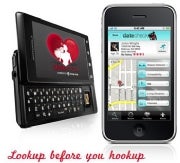 A similar service is Date Check, powered by Intelius, which is pushing its mobile aggregator service for iPhone and Android. This service includes criminal-background and sex-offender checks, under the heading "Sleaze Detector."
Both Date Check and Spokeo offer free services for basic information, with the option of a paid upgrade for deeper searches.
Video and Voice Screening
Skype and other videoconferencing technology can help you avoid the high costs and scheduling conflicts involved in bringing in people from afar to see if they're a good match–for employment, dating, or any other type of partnership.
"The traditional résumé tells recruiters very little about an individual candidate," says Kurt Heikkinen, the president of Expressume, a company that works with corporations to use online video technology for the interview process.
Founded in 2007, Expressume lets candidates create a video profile that answers prepared questions tailored to clients' needs. In a given period of time, a recruiter can go through many more of these short videos than they can live phone conversations, and they get a more accurate sense of the candidates, Heikkinen says. Once that step has helped to single out the best candidates, the service arranges a live video chat.
If a candidate doesn't have a Webcam, Expressume sends one so that they can record their end of the interview.
"This service is very aligned with post-recession hiring," Heikkinen says. "Recruiting staffs have been decimated, and they're looking for ways to be more efficient and save cost. Travel is time-consuming and expensive."
Whether you're bringing a candidate in for an interview, asking someone on a date, or hiring a person to feed your cat, a video call–in real time or prerecorded–can give you a sense of that person ahead of time.
"Are they comfortable? Do they make good eye contact?" says Michelle Krier, director of marketing and social media for Pinstripe, a recruitment outsourcing company based in Brookfield, Wisconsin. "Those types of things are really important."
Though video-chatting with a person brings them to life a lot more than simple Google results do, it's no substitute for face-to-face interaction.
"Keep in mind, you are communicating with someone you have never met before," advises Julie Spira, author of the bestseller The Perils of Cyber-Dating: Confessions of a Hopeful Romantic Looking for Love Online .
"Take your relationship from online to offline as soon as possible to see if there is any chemistry," Spira says.
Next: Using Social Networking Sites Effectively
Social Networking Sites
My roommate, Sarah, thought she was getting a pretty accurate gauge of her faraway love interest, but she didn't pay attention to several important signs. His Facebook profile photos all appeared to be self-portraits. Many of his friends were virtual-only, not people he seemed to know in person.
His end of the Skype conversations turned intimate too early for an exchange with a stranger, and he also jumped the gun in changing his online status from "single" to "in a relationship" before they even met. Of course, any new love affair, employee hire, or contract arrangement is a gamble–set up in person or not. But with the right high-tech tools combined with a healthy dose of skepticism, online seekers may be able to minimize the stakes.
Employers are increasingly looking at social networking sites such as LinkedIn, Twitter, and Facebook to get a sense for how a person might fit into their company. The same kind of search might be applied to dating or other connections made online.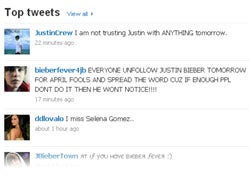 According to a poll conducted by the Society for Human Resource Management, online search engines and social networking sites have been growing as methods for screening job candidates. The survey, entitled "SHRM Staffing Research: Online Technologies and Their Impact on Recruitment Strategies," showed that 26 percent of those polled in 2008 used social networking sites as an HR tool "always," "frequently," or "occasionally," compared with 9 percent from two years prior. Use of search engines among recruiters also increased.
"What are the candidates like outside of the office, above and beyond what they are giving us in an interview setting?" says Damon Lovett, an SHRM technology and HR management special expertise panelist.
Lovett says companies can use social networking sites to gauge whether any discrepancy exists between what job candidates put forth on their résumés and how they present themselves–either professionally on LinkedIn or socially on Facebook. The same can be said for dating: A person might appear to have a lot of "friends," but what's the quality of those interactions? Does the person seem well respected by colleagues and friends in their network?
Lovett recommends searching for the candidate by e-mail address–usually found on the person's résumé–rather than by name. All the major social networking sites are connected to specific e-mail addresses, and it's a way to ensure that you are in fact looking at the right "John Smith."
Lovett also suggests looking at a job applicant's LinkedIn profile to assess the person's true area of expertise. If a candidate is applying for a job in one category but most of the person's connections are with professionals in a different field, that candidate may not be as well suited for the job as he or she might have you believe in the résumé.
"It's all about who you know," Pinstripe's Krier says. She notes that it's possible to use social networking to find the perfect employees who aren't even looking for a job. If an employer–or anybody else needing a service–has a specific type of person in mind, they can scan LinkedIn, Facebook, Twitter, and other social networking sites for just the right person, rather than sticking only to those who saw and applied for the opening.