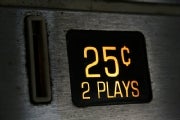 Google is developing services to let consumers pay for access to news articles and songs through individual purchases and subscriptions, according to various news reports.
The system to access fee-based news articles is called Newspass and would give people a single log-in and payment account to access the "paywalls" of multiple publications, according to the reports, which were triggered by an article last week in Italy's La Repubblica newspaper.
The move is seen as an olive branch for the publishing industry from Google, which many news organizations blame for the revenue crisis their publications have faced in recent years. Google has been accused of using third-party news content to build traffic for its search engines, specifically its Google News service. Google counters that it only serves up headlines, short text blurbs and thumbnail pictures on its pages, and that it always links them to articles in the original publishers' Web sites.
Meanwhile, The Wall Street Journal is reported on Tuesday that Google will launch a music download service later this year, and add a subscription option to it next year.
The music service would be tied to Google's search engine, thus building on Google's existing music search features, which let people play back songs right from Google's search results page through partnerships with online music providers.
Google's music service would also be designed to work with mobile phones that run the company's Android OS, according to the Journal.
Google didn't immediately respond to requests seeking comment about Newspass and the music service.