Google's officially opened the gates and invited all of America into Google Voice, its customizable phone management service.
Google Voice, previously available only by personal invitation, provides you with a single number to centralize all the phones in your life. Your Google Voice number can ring multiple phones — either all at the same time or individually, depending upon your preferences. Google Voice also includes Web-based voicemail with instant text transcription, the option to set personalized greetings for different callers, and the ability to send and receive unlimited text messages. And best of all, it's completely free.
Getting started with Google Voice, however, can be slightly overwhelming. Here's a quick guide to some of its key features and what you'll need to get your account up and running.
(A quick note: As of now, Google Voice is limited only to users within the United States. Google has suggested that this may change in the future, but it's given no firm timeline as to when international registrations could be opened.)
Google Voice: Starting Your Account
The first step to trying Google Voice is easy: Just head over to the Google Voice Web site and sign up. You'll need a regular Google account to begin; if you don't already have one, simply select the option to create one. (click image below to enlarge)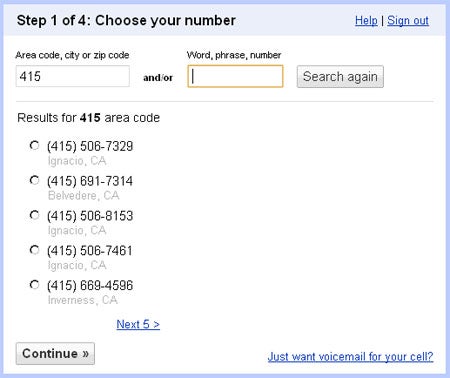 Once you're signed in, the system will walk you through the process of selecting your phone number. You can choose the area code and select from any number that's available, even searching for specific letter- or number-based combinations. (Hint: If you can get a number that spells out the word "CHEESE," you will be the envy of Gouda-lovers everywhere.)
You'll also select a PIN and add your first forwarding phone — your home phone, cell phone, whatever number you want to connect with your account. You can add more numbers later. This hints at the real core benefit of Google Voice: You can maintain a single permanent number that'll always reach you, wherever you are and whatever cell phone or landline you happen to be near. Moves and service changes are suddenly a lot less relevant.
Google Voice Settings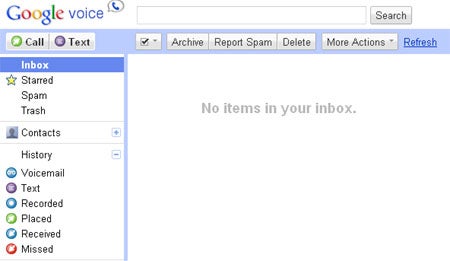 So, all set up? Yahtzee; now we're ready to really get going. The first place you'll find yourself after signing in is at the Google Voice home screen. The main part of the screen is where your voicemails and text messages will show up. On the top-left of the screen, you'll see buttons that allow you to place phone calls or send text messages free-of-charge (when you place a call, Google Voice actually calls you and then connects you to the number you dialed; the person on the other end will see your Google Voice number in caller ID). (click image to enlarge)
Let's start with some basics: Click on the "Settings" option at the top right of the screen. Here, you'll find options to add and manage multiple phones. Personally, I include my home and cell phone. Some people also include their work phones or other numbers they might occasionally use.
Clicking "Edit" next to any phone number lets you change its parameters. On the number-editing screen, select the option to "Show advanced settings." From there, you can customize specifically when Google Voice will ring each phone. You might, for example, want calls during the day to ring only your cell phone. But in the evenings, maybe you want calls to ring both your cell phone and your home phone, so you can pick up whichever is more convenient.
The next menu under the "Settings" section of Google Voice is "Voicemail & Text." This menu holds the options to record your own voicemail greeting; you can record as many as you want and set different ones to play in different circumstances, too. You can also tell Google Voice how to handle your voicemails and text messages from this screen.
The "Calls" section of the "Settings" menu is an important one to visit. There, you'll find the option to enable or disable call screening. If enabled, you'll actually hear a recording from Google Voice anytime you answer your phone. It'll tell you who's calling and give you the option to either answer or send the call to voicemail. (The person on the other end of the line will continue to hear ringing while you decide.) If you send them to voicemail, you can then listen in as they leave a message and opt to pick up the call at any point during the recording.
Up next is the "Groups" tab. This tab holds a lot of power: It lets you divide your contacts into different categories and then specify how their calls are handled. You could, say, tell Google Voice to route your boss's calls to your cell phone during the week but to send him directly to voicemail if he calls you on the weekend. (Google Voice will even give the appearance of the phone ringing a few times on the caller's end, so he'll never know.) You could similarly send an annoying relative's calls straight to voicemail 24/7. The options are endless.
Google Voice on your Cell Phone
If you ask me, the best part of Google Voice has nothing to do with this Web site: Rather, it's all about your cell phone. If you use an Android or BlackBerry device, you can install Google's free Google Voice app and fully integrate the service into your phone's operating system. The apps allow you to place calls from your Google Voice number — meaning that's the number that'll show up on caller ID when you dial someone — and also let you access your Google Voice inbox right on your device.
The latter is a serious time and money-saver: Once you start using Google Voice for your voicemail, you'll never have to dial into your carrier's voicemail system or use its visual voicemail feature again; instead, you'll just open up the Google Voice app and find all your messages there. The app gives you text transcriptions as well as the option to play messages out loud, and no airtime is ever required.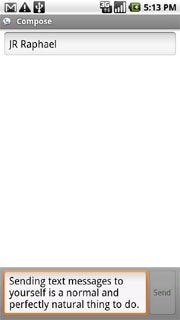 Texting becomes a whole new game, too — one that doesn't cost you a dime. The Google Voice app functions as a full SMS utility. If someone sends a text to your Google Voice number, you'll get a notification on your phone and can read the message and reply within the Google Voice app. You can also send outgoing texts from the app anytime; there's never a fee. The only downside is that multimedia messages — texts that include images, for example — are not yet supported. So sorry, no sexting.
What if you're on the iPhone? Apple, as you've probably heard, decided not to let the Google Voice app into its walled garden for reasons never made entirely clear. Google got around the restriction and released a Web-based version of its service; you can access it by visiting m.google.com/voice from your phone's browser. The Web app gives you some of the Google Voice functionality but fails to integrate the service fully into your device, so it's a far less robust experience (and certain functions are completely unavailable).
The Google Voice Web app is as good as it gets for users of WebOS, Windows, and other smartphone platforms for the moment, too.
Some Final Considerations
Now, Google Voice isn't necessarily all roses: There are certainly potential downsides and concerns you'll want to consider before fully committing to the service. I went through some important pros and cons back when Google first introduced the service; that list might be worth revisiting as you evaluate Google Voice and decide whether it's right for you.
For the love of provolone, though, if you sign up and get that "CHEESE" number, let me know.
Contributing Editor JR Raphael writes the new Android Power blog and cracks wise at eSarcasm, his geek-humor getaway. Come say hi on Facebook: facebook.com/The.JR.Raphael