Not quite happy with the way Windows 7 works, or looking to get more out of the operating system? You've come to the right place. We're big fans of Microsoft's latest OS, but we're also big fans of making Windows better. In this article, we've rounded up the best Windows 7 downloads. They'll let you customize it in any way possible, give it features that Microsoft removed or neglected to include, and more. So get ready to download–you're about to take Windows 7 to a new level.
(If you're eager to grab more than one of these great programs, see our Windows 7 Downloads collection.)
Network Activity Indicator for Windows 7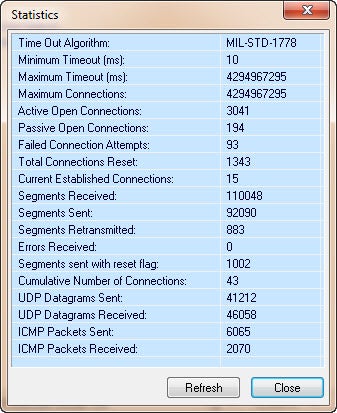 When Microsoft released Windows 7, the company inexplicably did away with a small, nifty utility called the Network Activity Indicator. Now you can have it back. The Network Activity Indicator for Windows 7 does what the Vista utility does, and then some. Like the Vista version, this tool puts a small icon (depicting two monitors) in the system tray to indicate when you're connected to a network or the Internet, and the icon blinks to show you when your machine is sending or receiving data; it also provides useful information, such as the network to which you're connected.
On top of that, however, this utility offers a lot more detail. For example, if you hover your mouse over its icon, you'll see transmission data about the number of packets you've sent and received. Right-click the icon, and you'll find yourself in network techie heaven, with gobs of statistics such as your active open connections, the number of errors you've received, your minimum timeout settings, and the like.
Even if you don't need all of that information, though, this is a very practical addition to your Windows 7 PC. It's a convenient tool for seeing your network status at a glance.
Download Network Activity Indicator for Windows 7 | Price: Free
7Smoker Pro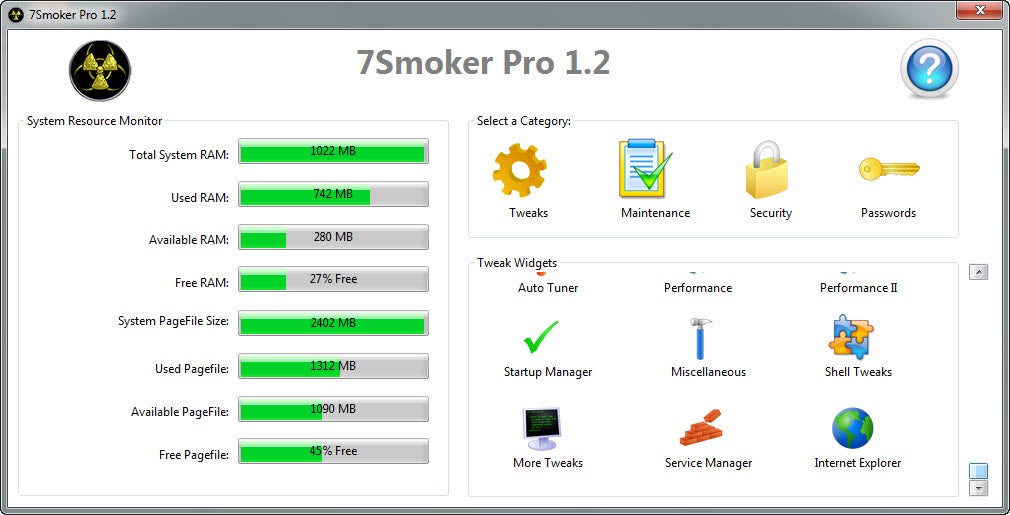 Want more customization power than you can get from free Windows 7 utilities? Try the for-pay 7Smoker Pro. It gives you enormous control over countless aspects of Windows 7's appearance and functionality in four categories: Tweaks, Maintenance, Security, and Passwords. Each of those categories has subcategories, and each subcategory offers multiple tweaks–which means that you can customize hundreds of individual Windows 7 settings.
If you don't have the patience to make that many tweaks, the program also has a one-click automatic tuner that peers into your system and adjusts it to make it run more effectively. You'll also find other nice tools, such as one that looks for the folders consuming the most space on your hard disk so that you can trim them down.
Although some of the tweaks are straightforward and easy to understand, many others are more technical in nature. Do you know what it means to 'Disable paging of kernel' or to 'Disable TIF Settings', for example? This application lets you do such things, but it doesn't tell you what they mean, or what effect the settings have on your PC. As a result, 7Smoker Pro is best suited for more-experienced Windows fans–but they'll find it very useful.
Download 7Smoker Pro | Price: $30 (free trial)
Windows 7 Manager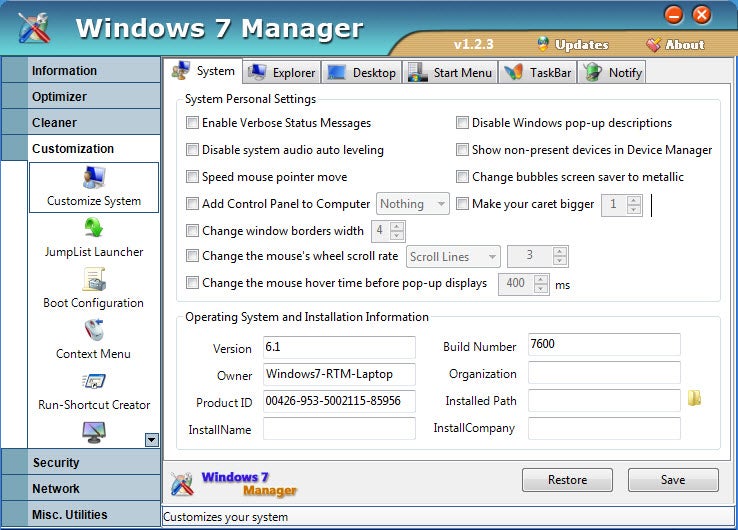 A great way to bend Windows 7 to your will is to use Windows 7 Manager. With this utility, you have the power to customize and improve just about every aspect of Windows 7. Want to optimize and clean your system? Need to control what programs run on Windows startup, or to adjust the Task Scheduler to turn off unnecessary system tasks? No problem.
This application also does far more, including improving security and cleaning your hard disk. The amount of control that Windows 7 Manager gives you is extraordinary. For example, you can change the mouse hover time before a pop-up displays, repair hardware and software problems, or optimize your broadband connection.
The neatly laid-out interface puts everything within reach. Click what you want to improve, and you'll see a screen full of options, often accompanied by simple-to-follow wizards. In other instances, you'll need to have a bit of technical background. But no matter what, in this program you'll find easy ways to make Windows 7 work just as you want it to.
Download Windows 7 Manager (32-bit) | Download Windows 7 Manager (64-bit) | Price: $40 (free trial)
Windows 7 Taskbar Thumbnail Customizer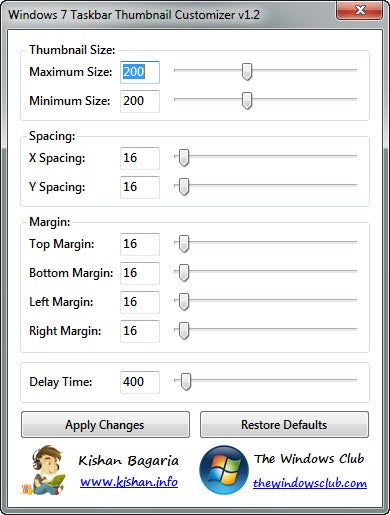 One of Windows 7's nicest improvements is the addition to the taskbar of multiple thumbnail previews, which appear whenever you hover your mouse over a taskbar icon. What makes them superior to the Vista version of the feature is that you can see all currently running windows as thumbnails, not just a single window.
But the revamped thumbnails still have one problem: They're typically too small to give you much of a preview, especially if you use a large monitor. Windows 7 Taskbar Thumbnail Customizer offers a good fix, allowing you to change their size in any way you desire.
The program is exceptionally easy to use. Just install it, and then move the sliders to determine the size of the thumbnails themselves, as well as the spacing between them, their margins, and the time they take to display.
What if you wish to go back to the way the thumbnails were before you started changing them? Simply click Restore Defaults.
Download Windows 7 Taskbar Thumbnail Customizer | Price: Free
Win7Zilla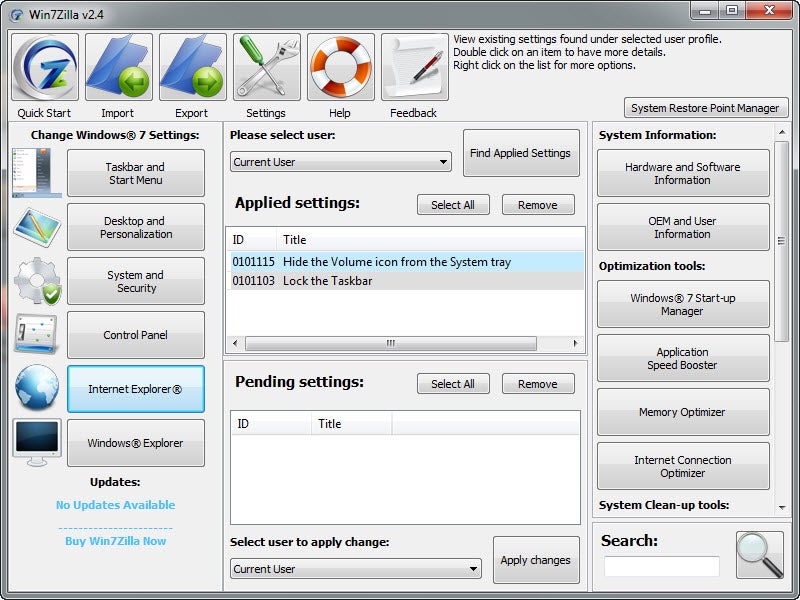 Here's another excellent Windows 7 tweaker–and it may well be the best of the bunch. Not only does it let you change just about any part of the operating system, but in many instances it also shows you exactly what each adjustment will do, which is rare in a system tweaker.
Win7Zilla puts you in charge of almost every part of the operating system, with an incredible amount of fine-grained control. On the Start menu alone, for instance, you can perform more than two dozen tweaks. Now imagine having that level of control over virtually every aspect of Windows 7, from the desktop to the Control Panel to security settings, as well as to Internet Explorer, Windows Explorer, and beyond. You also get other practical tools, such as a file cleaner and a Registry cleaner.
What really sets Win7Zilla apart is how clearly it explains the effects of your changes. It provides succinct descriptions in plain English–but better yet, it also shows you screenshots, so you can see what will happen. No other tweak utility does this.
If you're willing to pay for a Windows 7 tweaker, you won't do better than this one.
Download Win7Zilla | Price: $16 (free trial)
Next: Five Essential Windows 7 Downloads
Five Essential Windows 7 Downloads
If you use Windows 7 regularly, you've probably heard about these standbys–and maybe you've already grabbed one or more. Here are five must-haves that can help any Windows 7 user make the most of the OS.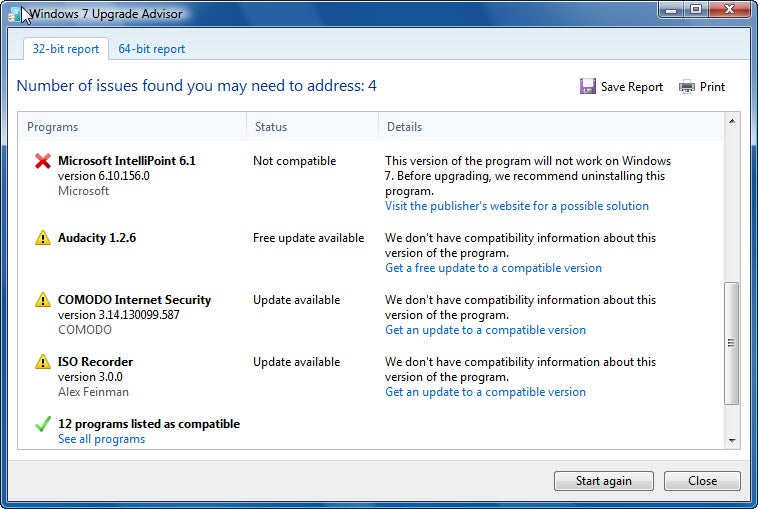 Wondering whether your older PC has the hardware power to run Windows 7? Don't gamble on upgrading–before making your decision, run the free Windows 7 Upgrade Advisor. After you download the tool, make sure that you've connected all of your peripherals to your PC and turned them all on so that the app can give you an accurate report. It checks your processor, graphics subsystem, hard disk, and peripherals. It also examines the software you're running; if you have older programs, it tells you if upgrades are available to make those apps compatible with Windows 7.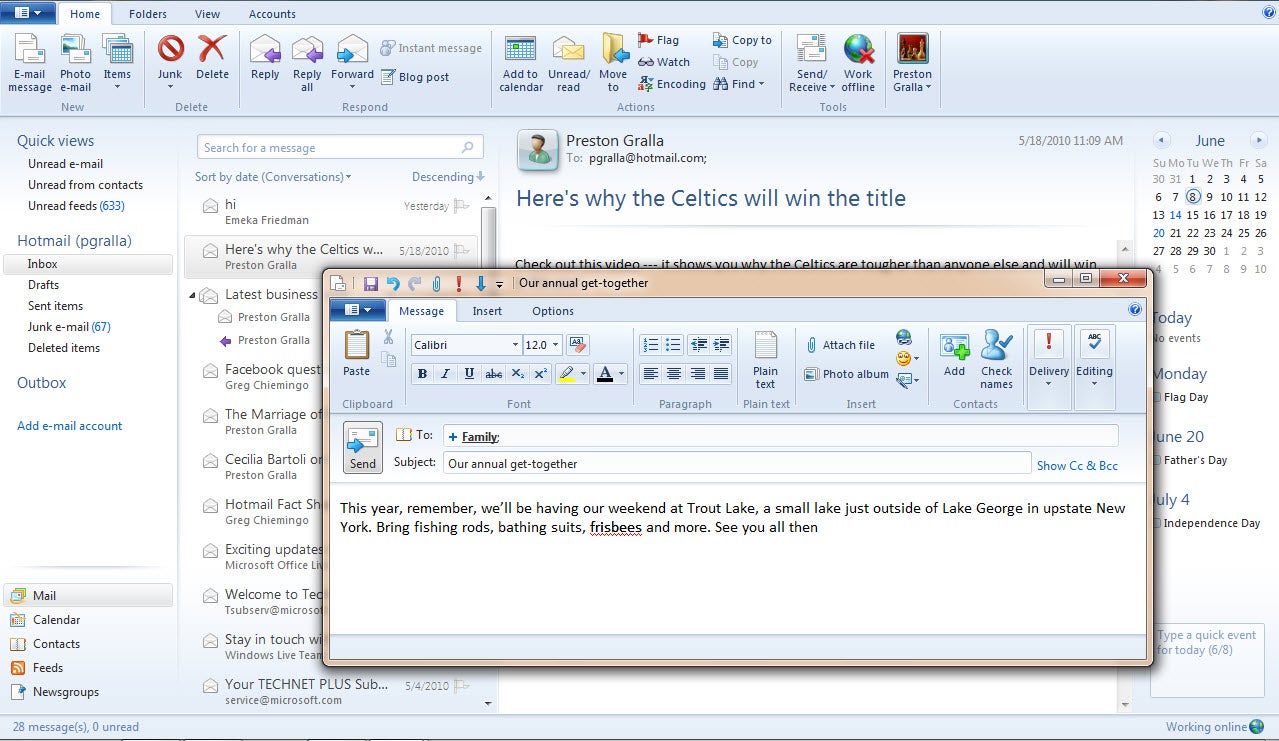 Windows 7 has one big, fat hole: It ships without an e-mail program. But Microsoft's Windows Live Mail–a free, downloadable e-mail client optimized for Windows 7–is surprisingly powerful. It can access multiple e-mail accounts, and it works with Hotmail, too. Additional features include a photo e-mail capability, which lets you embed pictures inside a message and then add borders and captions–it's almost like sending a photo album. The program handles RSS feeds as well, and it offers spam filtering, the ability to create rules, and solid ways to organize your mail.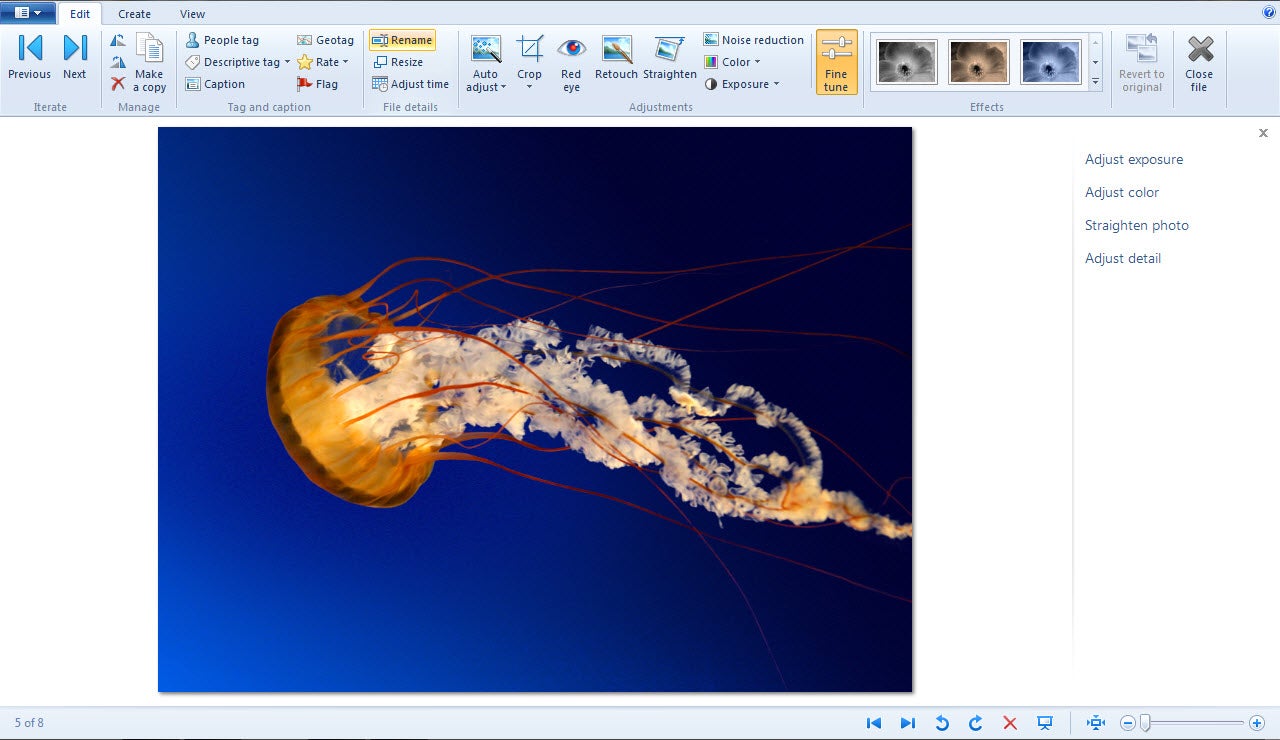 In the move to Windows 7, Microsoft also pulled the Windows Photo Gallery. To replace it, however, you can download the free Windows Live Photo Gallery, which is even better than the version built into Windows Vista. The program makes it easy to browse through and view all your photos, as well as to share them online and via e-mail. It sports a nice set of photo-editing tools for handling tasks such as eliminating red-eye, cropping, and correcting colors; or, if you prefer, you can use the Auto Adjust feature to make photo fixes with a single click. Also nifty is the app's ability to stitch together multiple photos to make a single panoramic view. Among other extras are functions that burn a CD full of photos or help you post a photo to your blog.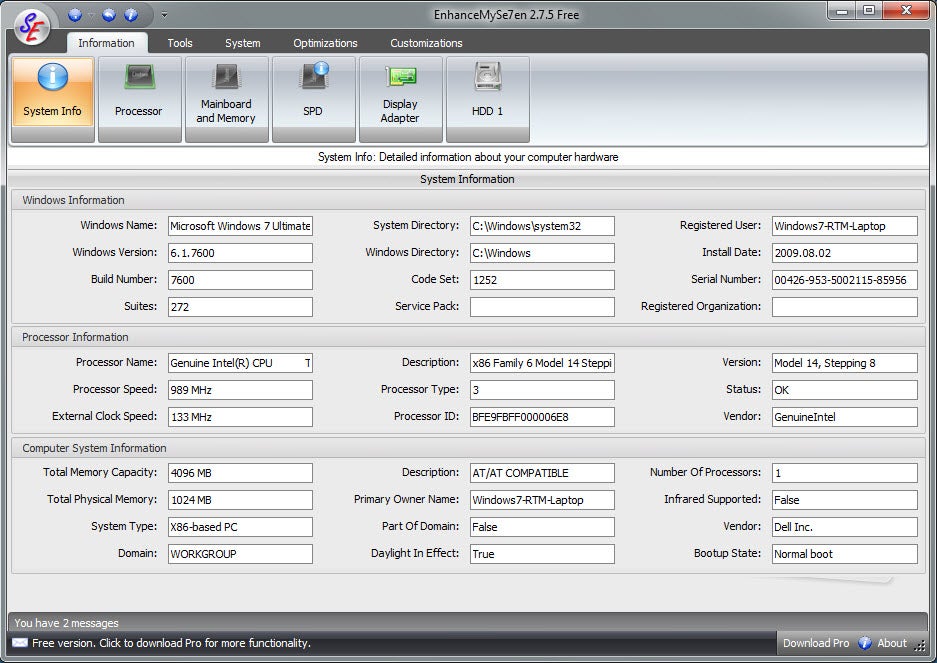 For a no-cost utility, EnhanceMySe7en Free is quite substantial. This combination system customizer, diagnostics tool, and maintenance utility gathers an enormous amount of detail about your PC, including data about your processor, RAM, display adapter, and hard disk. It also allows you to customize your Start menu, as well as to tweak the desktop, taskbar, Windows Media Player, and Windows Explorer. These aren't superficial tweaks, either–the program digs down into the guts of your system, permitting you to remove all toolbars from the taskbar, for instance, or to hide the Log Off button on the Start menu. Additionally, you'll find a good Registry cleaner, a disk cleaner, and a way to stop certain programs from running on startup.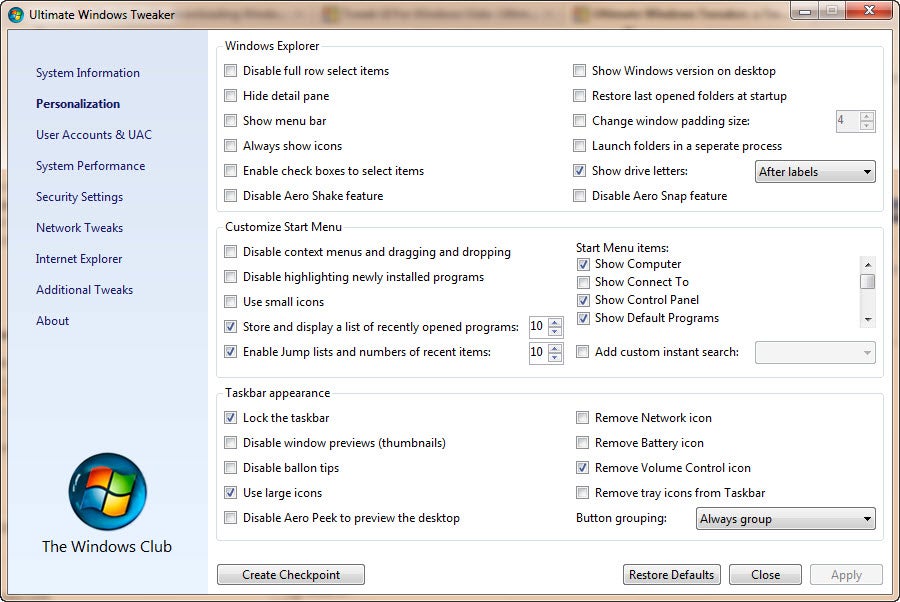 Long ago and far away, Microsoft released Tweak UI, a free tool that customized Windows XP in countless ways. It quickly gained a large and loyal following. Unfortunately, Microsoft didn't follow suit with a version for Windows 7. TweakUI lovers can instead use the free Ultimate Windows Tweaker, which is actually far more powerful than Tweak UI was. Here you'll discover well over 100 settings for Windows 7, covering Windows Explorer, the Start menu, the taskbar, User Account Control, system performance, security settings, and more. Want to hide your entire network from Network Neighborhood? How about disabling Aero Shake, using small icons on the Start menu, or disabling the Control Panel? You can do all that. Note, too, that Ultimate Windows Tweaker runs on Vista as well as on Windows 7; it detects the operating system on which you've installed it, and shows you only the relevant tweaks.