June has been a big month for Acer, which predicted it will become the world's top notebook seller this year as it released two new notebooks, four netbooks, and a series of desktops.
Acer launched the Aspire Timeline 3820T/TG and 8943G notebooks last week, and followed up Monday with the Aspire X3 and M3 Series desktops. The laptops and the Aspire X series desktop won honors at the Computex Taipei Design & Innovation Awards several weeks ago. All of these systems appear promising, but for mobile workers, the new netbooks–the Aspire One AOD260, AO533, AO521, and AO721–look the most appealing.
In particular, the Aspire One AO521 and AO721 appear to offer notebook power and performance in smaller, more attractive packages than some of the competition. Not that a fashion statement is a requirement for fast-paced workers who spend their days on the road or in the field, but for the style-conscious user, these models are easy on the eyes.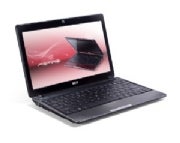 The AO721 is housed in a black matte, mesh-textured case that minimizes fingerprints and smudge stains, and the AO521 wears a patterned design in either brown or black. Both are equipped with high-definition CrystalBrite LED backlit displays, 11.6 inches on the AO721 and 10.1 inches on the AO521. Each system measures less than one-inch thick and weighs about three pounds. They are small and light enough to hold in one hand, making them appealing for, say, giving presentations to clients while multitasking at an offsite meeting.
A slide show, for instance, should look excellent on these screens that display ATI Radeon 4225-supported high-definition graphics and video playback. The netbooks also come with HDMI ports to connect with an HDTV, should you need to show customers or colleagues a product demo, a training video, or a YouTube advertisement.
Both systems have been upgraded to AMD Athlon II Neo K125 processors, have 250GB internal hard drives with Windows 7 (Starter and Home Premium), with 1GB of RAM on the AO521 and 2GB on the AO721. The larger netbook has a full size keyboard, while that of the AO521 is 7 percent smaller.
Other features include 802.11 Wi-Fi, ethernet LAN connectivity, 1.3 megapixel built-in webcams with high-end graphics for smooth video streaming and video conferences, a built-in digital microphone that suppresses background noise, a digital media card reader, three USB 2.0 ports, and a six-cell lithium-ion battery, which is supposed to last five and a half hours.
The Aspire One AO721 and AO521 are available now at $429.99 and $349.99.