Users of Windows Live Photo Gallery can easily upload their photographs and videos to their Facebook albums using LiveUpload to Facebook (free). Facebook's own photo album tool has been slow and unintuitive, so it's no surprise to find fixes and improvements to the photo feature of the app-heavy social networking site. This one is particularly welcome.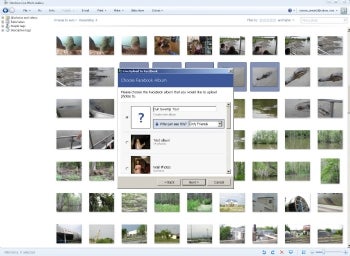 The initial setup of LiveUpload is a bit cumbersome as you download the app and then toggle back and forth between Windows Live Photo Gallery and Facebook. Facebook requires a few levels of permission, asking to allow access to LiveUpload, then allow it to publish. Once you've set up, however, the app is simple to use. Just peruse the photos in Windows Live and decide which ones you want to share on Facebook. Click Publish from the Photo Gallery menu bar, and you'll see LiveUpload to Facebook as an option. You can set up one or more Facebook accounts and choose which one you'd like to publish to.
Via a dialog box, you can create a new album or put your photos in an existing album, working the same way as Facebook's standard Photo Album tool. Set the sharing parameters from a drop-down list that lets you choose to share with Everyone, Only Friends, Friends of Friends or My Network. Then click to publish.
It took mere seconds to upload 12 pictures to an album, and the whole process was much smoother and faster than Facebook's standard Photo Album tool. You can upload videos as well as photos using LiveUpload from Photo Gallery, and those who use Windows Live Movie Maker to edit and embellish videos can use LiveUpload directly from it as well.
LiveUpload to Facebook does just one thing and it does it well, but it's specifically for use with Windows Live Photo Gallery or Windows Live Movie Maker. If you'd just as soon not have your photos on Windows Live, it's not worth signing up just for this app, especially since Facebook has unveiled its own new-and-improved photo upload tool. But for existing Windows Live users, it's a useful addition that makes sharing on Facebook a snap.