7stacks (free/donationware) allows for Mac OS X-like organization of multiple program icons into one shortcut that can be put on the desktop or quick launch bar. Although it saves space, the current beta may be slow on older or less-powerful PCs.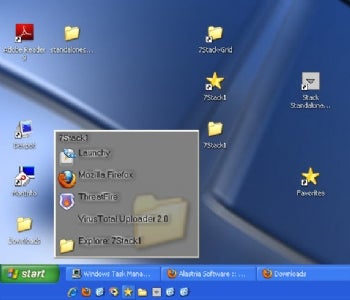 Designed with Windows 7 in mind, 7stacks creates links to a folder of shortcuts or files. You select the folder when creating a new 7stack, along with how the folder's items will look when it's clicked. The default stacked list has each item on one line, with an icon and full name, while the grid layout is useful when a folder contains many items. The Explorer-like menu option allows for sifting through subfolders.
New stacks start out as shortcuts on your Windows desktop, which you can add to your Taskbar (in Windows 7) or Quick Launch toolbar (for Windows XP or Vista). Clicking the stack icon displays all of its shortcuts or files in a pop-up.
While 7stacks can help organize a clutter of shortcuts, that doesn't necessarily mean you'll be able to work faster–not on an older machine, anyway. On my low-powered Windows XP test machine there was a noticeable delay between clicking a 7stack icon and seeing its contents. The app's creator, Alastria Software, says the next version will have an optional system tray component to speed things up.
If you're looking for Mac OS X-like shortcut groupings, you might also check out the similar StandaloneStack 2, which includes the ability to change the settings for an already-created stack (which 7stacks doesn't yet do).