Ever wish you could watch that piano-playing cat at 35,000 feet? Alas, YouTube requires a live Internet connection, and Wi-Fi is still pretty hard to find in the friendly skies.
Fortunately, you can download YouTube videos to your PC for anytime, anywhere viewing, no Internet required.
There are countless ways to "rip" YouTube vids, but I'm partial to Keep Tube. It's available as both a Firefox extension and a browser bookmarklet, the latter compatible with Chrome, Internet Explorer, etc.
What's more, Keep Tube works with not only YouTube, but also CollegeHumor, Facebook, Google Video, Metacafe, and countless other sites.
When you see a video you like, just click the Keep Tube icon (in Firefox) or bookmarklet. From there you'll land at a Keep Tube page where you can download your video in one or more formats and sizes.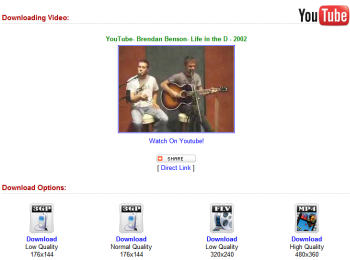 My advice: choose MP4 whenever possible, and always at the highest available resolution. YouTube's native FLV format requires a special player, whereas MP4 works in Divx, QuickTime, and other more-common players.
Also, MP4 files usually play nicely on smartphones, so you can take your saved videos to go.