Apple's iPhone 4 is officially launching tomorrow, and some lucky iPhone 4 customers are even getting their hands on the device today. If you're planning on lining up on Thursday to get your own iPhone 4, or even if you've already pre-ordered a new iPhone, check out this quick rundown of everything you need to know to survive the next few days of iPhone mania.
I've got tips for where to find an iPhone 4, where you can sell off your old iPhone devices for a tidy sum, and some handy information about iOS 4, the iPhone's newest operating system. So check it out, bookmark it, or throw it on Instapaper to have this handy reference guide readily available; you'll be glad you did.
How good is the iPhone 4?
Overall, most critics have been impressed with Apple's new smartphone, and some reviewers are reporting extraordinary battery life on the new device. You can read PCWorld's iPhone 4 review, and also check out this visual tour featuring a side-by-side comparison of the iPhone 4 and iPhone 3GS.
If you want to get a sense of what the rest of the technology world is thinking about the iPhone 4 check out this breakdown of five early iPhone 4 reviews.
Where can I dump my iPhone 3GS for a good price?
If you've got a year to go on your iPhone 3GS contract, but still want to get an iPhone 4 this weekend, you might be thinking about selling your device online to cut down the upfront costs of buying an iPhone for full price.
A user on AT&T's forums named tevisb claims to have sold an iPhone 3GS on ebay for $375. After paying ebay's seller fees including the auction site's 9 percent cut of the final sale, tevisb was left with about $370. That's a pretty good chunk of change to help pay for the iPhone 4's non-subsidized prices of $599 (16GB) and $699 (32GB).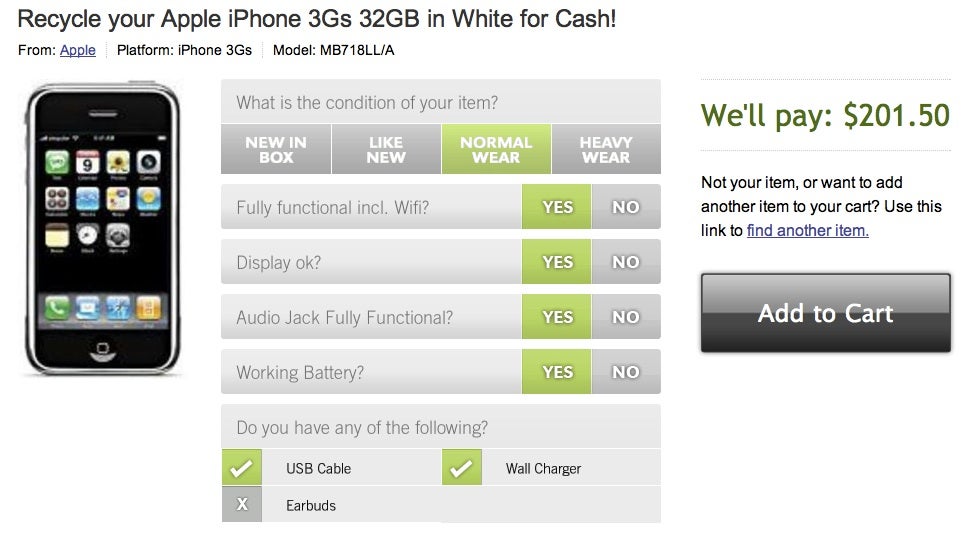 (Click on image to see a full-sized version.)
If you're just looking to unload your iPhone 3G or 3GS faster than an auction, you could try out gadget buying sites like Gazelle and Nextworth. Nextworth is paying $200 for a 16GB iPhone 3GS in good condition that has a working screen; functional Wi-Fi, audio jack and battery; as well as the original cables and adapter. Gazelle is offering $159 for the same iPhone 3GS model in similar condition. RapidRepair also has a buyback program for iPhone devices, and is offering $145 for a fully-functional 32GB iPhone 3GS.
TIP: Before you sell your iPhone remember to wipe all your personal data off the device by doing a factory restore via iTunes.
Getting the iPhone 4 on Thursday
It's going to be a tough slog getting your hands on an iPhone 4 on Thursday if you haven't pre-ordered it already. Your best bet may be to line up with the maddening throngs at your local Apple Store on Thursday, June 24. Doors will open at 7 a.m. local time.
AT&T has already said it will not have any iPhone 4s available to anyone who doesn't have a reservation on Thursday; it won't start selling iPhone 4s to walk-in customers until June 29.
RadioShack has an FAQ on its Facebook page that says the company isn't sure how many devices it will have available for purchase on Thursday–availability at RadioShack will probably vary greatly from location to location.
Your other option is to try your local Best-Buy or Wal-Mart, but Computerworld's Greg Keizer is reporting that both retail giants have a very limited supply of iPhone 4's.
Last, but not least, you could try shopping for an iPhone 4 on eBay, but don't expect to find any good deals. I found one seller who's offering the iPhone 4 for a buy it now price of $100,000.
You should also keep your eye on Apple's Web site over the next few days. If this year's iPhone launch weekend features long waiting lines, Apple may update its site with an iPhone availability checker as it has in the past. This Web-based tool provides a breakdown by model of how many devices are available for purchase at your local Apple Store.
Also, check out my earlier iPhone pre-order guide detailing all the information you need to know about AT&T's new data plans, the tethering option, and what kind of identification you need to provide to complete your iPhone 4 purchase.
How is iOS 4 on older devices?
As an alternative to shelling out for a new iPhone, you could just stick with your old hardware for now and enjoy the benefits of iOS 4, the iPhone's new operating system. But keep in mind that iOS 4 only works with the iPhone 4, iPhone 3GS, and 3G, and not all of the new features are available for both devices. Most notably, the iPhone 3G is incapable of using the new multitasking feature, and 3G owners will also miss out on Bluetooth keyboard support and custom wallpaper. You'll also need the new iPhone to take advantage of FaceTime, the iPhone's new video calling feature.
Check out this side-by-side video comparison of the iPhone 3G running iOS 4 and iPhone OS 3.1.3:
iOS 4 flaws
Reviews and opinions about iOS 4 are mixed. You can read Macworld's complete iOS 4 review to get the whole picture, but there are some notable complaints about the new OS. My colleague Jared Newman argues that Apple blew it with iOS 4's new multitasking feature, and Harry McCracken says iOS 4 is missing a more comprehensive search function, bigger mail storage, a more professional-looking Notes app, third-party widgets, and better voice recognition. There are also some concerns over Apple's new privacy policy that comes along with iOS 4 and affects all iPhone owners.
Despite the criticisms, PCWorld's Daniel Ionescu lists ten significant reasons to upgrade to iOS 4. The new iOS 4 has some other hidden goodies too like the new Mail application's compatibility with Gmail archiving, and PCWorld also has a rundown on what iOS 4 can and can't do for business users.
So there you have it, a quick and dirty guide to everything you should know to survive the iPhone 4 launch. If you've got a reservation for Apple's new device, enjoy your new toy. And if you're planning on camping out Wednesday night in the hopes of getting a new iPhone 4 without a reservation on Thursday, good luck.
Connect with Ian on Twitter (@ianpaul).