Microsoft updated its Bing iPhone app, adding social network integration, visual scanning, and restructured entertainment sections that may lure people away from Google. Version 1.2 of the Bing iPhone app is now available at the App Store and is compatible with the iPhone, iPod touch and iPad (no word yet on when or if Android will receive a similar update). Here's a rundown of Bing's new features.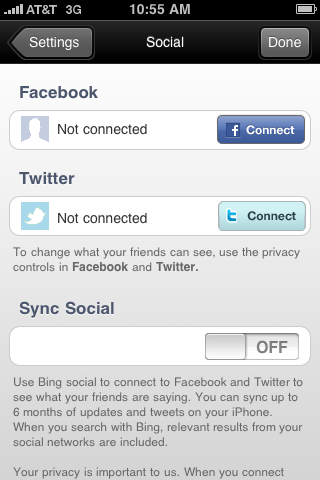 Advanced Social Networking Integration
Just like the Web-based version of Bing, the iPhone app now connects to your Facebook and Twitter accounts to show your friend's status updates. To activate this setting, go into the "settings" menu of your Bing app, click "social" and then sync your Facebook and Twitter accounts to the app. Maybe it's my dinosaur iPhone 3G, but the syncing process took me more than 10 minutes.
Microsoft didn't stop at status updates and tweets — it researched how people use Facebook and Twitter. The company discovered that 40 percent of the time when people ask Bing questions that don't have a defined answer — like inquiries about where to eat dinner — "social networks are faster at providing a great answer than traditional search engines," according to the Bing blog. I searched for "sandals" and Bing showed me not only Web and shopping results, but a social section that included a friend's update about buying you know what.
If you like what the Bing app found, you can then broadcast the results via Facebook, Twitter or e-mail by clicking the arrow in the bottom right-hand corner of your iPhone screen.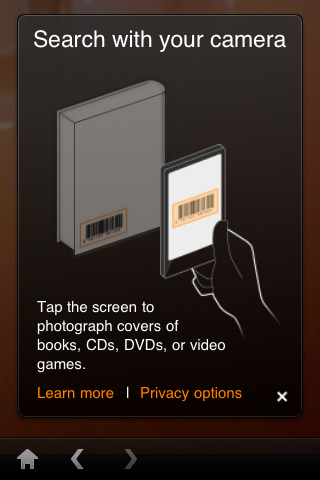 Visual Scanning
There are already a few shopping-related barcode scanning apps for the iPhone, like pc2shop, Shop Savvy and the superior RedLaser. Bing has taken it one step further and included "visual scanning." Using the iPhone's camera, you can take a picture of a product — like the cover of a book or a DVD case — and catch descriptions, reviews, prices and links to merchant Web sites.
I tested the barcode scanner and found it to be very responsive. The results took a while to arrive, but that was because, of course, AT&T dropped the signal. Once my phone finally connected, Bing showed me my product, some reviews, where to buy it online, Web results and more images.
Amazon's iPhone app has a feature similar to visual scanning called Amazon Remembers, and Android phones have access to Google Goggles. Google Goggles is expected to come to the iPhone soon, but for now, Microsoft has a head start on this.
Movies and Shopping
It appears Bing is gunning to replace your other movie and shopping apps like Fandango, IMDB and Amazon. The movies section of the Bing app now boasts more videos and trailers, and the shopping section speeds product search and includes prices and merchant links.
Will Bing be the Only App You'll Need?
Version 1.2 of the Bing app aggregates several other iPhone apps, including Facebook, Twitter, Amazon, Google, IMDB, Fandango, and more. I expect that future updates will further encroach on territories, perhaps eliminating the need to ever leave Bing.