The iPhone 4 went on sale on Thursday morning, with Japanese customers who waited in long lines among the first to purchase the latest smartphone from Apple.
Hundreds of people waited in lines outside a Tokyo store owned by operator Softbank Mobile and Apple's Ginza outlet, including some people who'd camped out overnight in anticipation of buying the new phone, the Nikkei Keizai Shinbun newspaper reported on its English Web site. The iPhone 4 went on sale at 8 a.m., Tokyo time.
The iPhone 4 will initially be available in the U.S., France, Germany, the U.K. and Japan, followed by other countries. By the end of September, the handset will be available in 88 countries.
The atmosphere was subdued at three French mobile phone stores in the La Défense business district to the west of Paris on Thursday morning. The Phone House was deserted. It still stocks the iPhone 3G and 3GS, but not yet the iPhone 4.
Three customers stood around an iPhone 4 on display in the store of mobile operator Orange. After prodding distractedly at the phone for a minute, one of the customers turned to the sales assistant and said: "OK, but what I really wanted was a protective slip-case for my iPhone 3G."
There were 22 people waiting outside the store of another operator, SFR, which had not yet opened at 9:45 a.m., local time. At least half a dozen of those in line already had iPhones in their hands. No one left the line when staff announced that the black iPhone 4 would not be in stock until Friday, while the white one would not arrive till July.
The Apple Store in the center of Paris planned to open two hours earlier than usual Thursday and Friday, primarily for customers who had placed an advance order for an iPhone 4 to pick theirs up.
Hundreds lined up outside the Apple Store in Fifth Avenue in New York, where the phone went on sale a little after 7 a.m. local time. The line stretched across blocks and had a festive atmosphere, with people cheering and sounding horns as sale time approached.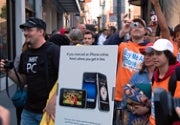 One customer in line thought the hardware and software changes on the iPhone 4 were big enough to attract this much attention.
"Everything has been upgraded, literally. It has a better look too," said Joe Duffy, the owner of Fusion Health Services in New York City. Duffy had been standing in line since 4.30 a.m. the previous day to get his hands on an iPhone.
There were also large lines stretching blocks outside another Apple Store located on West 14th street in New York, according to messages on Twitter.
In the U.S., the smartphone is priced at US$199 for a 16GB model and at $299 for a 32GB model, with two-year data plans. AT&T iPhone customers in the U.S. are eligible for that pricing if their current contract expires any time in 2010.
The iPhone 4 has already been declared a success prior to the device's availability in stores, but not without some hiccups. Apple and its U.S. carrier partner AT&T started taking iPhone preorders on June 15, but a big rush caused online ordering systems to collapse, leaving potential buyers frustrated and angry.
AT&T suspended taking orders the next day and Apple apologized to users, saying that demand for the iPhone 4 was "far higher than we anticipated." Apple and AT&T had taken orders for more than 600,000 iPhones, Apple said.
Lines started forming days in advance outside stores in Japan and the U.S. to purchase the device.
"First of all, the screen is so beautiful that you can't even see the dots," said Manayabu Ishiyama, who stood in a line outside a Softbank store in Tokyo. He was looking to upgrade from an iPhone 3G S.
People also lined up outside an Apple store in Boston a day ahead of the iPhone launch. Rain was forecast in the city for Thursday morning.
"I realize there are more important things going on in the world right now, but it's kind of fun to be out here," said Curtis Glavin, who was first in the Boston line.
The line formed much later for the midnight opening of the flagship Orange store on the Champs Elysées in Paris, however. The store was quiet late Wednesday afternoon, with no one waiting outside, but by the time the store reopened at midnight, a line of over 100 people had formed.
The iPhone 4 is thinner than its predecessors. The device is 9.3 millimeters (0.36 inches) thick, about 24 percent thinner than the iPhone 3GS. A 3.5-inch display shows images at a 960-pixel-by-640-pixel resolution, and about four times as many pixels in the same amount of space than earlier iPhones.
The device includes more than 100 new features, including a front-facing video camera for videoconferencing, a faster processor and improved multimedia capabilities. It promises longer battery life compared to earlier models, offering seven hours of talk time and six hours of Web browsing time over 3G networks. It also offers 10 hours of browsing over Wi-Fi networks, 10 hours of video playback and 40 hours of music listening.
The phone is powered by an internally developed A4 chip, which includes a processor core designed by Arm. The phone has a Micro-SIM tray on the side.
The new chip and front-facing video camera add strong multimedia capabilities that earlier models lacked. The smartphone will be able to record 720p video at 30 frames per second. For videoconferencing, Apple has introduced the FaceTime application for video calls, which will only work over Wi-Fi networks for now. Apple CEO Steve Jobs has said the company "needs to work" with carriers for the application to operate over cellular networks.
The videoconferencing addition is the "wild factor" that differentiates the iPhone 4 from its predecessors, said Duffy, a New Yorker who was in line in New York to purchase the iPhone. He isn't bothered by some perceived shortcomings, like a lack of Flash support.
"My business Web site is in Flash, and I can't see my own Web site, but it never really bothered me. I could see it on a laptop or … my desktop," Duffy said.
The phone will run the Apple iOS 4, which was previously released as iPhone OS 4.0 beta in April. The new OS will bring true multitasking capabilities to run multiple applications at the same time. Previous phones were able to run only selected applications at the same time.
(Sumner Lemon, in Singapore, and Peter Sayer, in Paris, contributed to this story.)