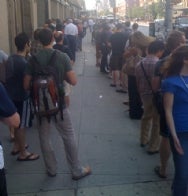 With a pre-order reservation and an early arrival time of 6:55am to New York's grandiose West 14th Street Apple Store, I still expected a long wait for a factory-fresh iPhone 4. I guess I underestimated the drawing power of the new smartphone, so to my astonishment, the queue stretched an entire avenue (that's two and a half city blocks, for you country folk) around the corner and then some. A few folks who weren't able to get a reservation online even camped out on the Chelsea sidewalk (the first non-reserved iPhone 4 purchased was from a man who had been there four days). The sun was hot, and the line was slow, but Apple provided water and snacks to the thousands of NYC early adopters. Here were some of the more notable quotations overheard from some incredibly anxious (but at the same, extremely patient) iPhone 4 launch day line-goers.
1) "I'm really sorry, I'll be there soon… I'm, eh… stuck in traffic in New Jersey… I'm really, really sorry, boss…" (I'm guessing workplace attendance was at an all time low today).
2) "Oh, NOW they have ice cream!" (After being generously fed ice-cream's inferior cousin: sorbet. Got to admit though, the cold snacks were a big morale boost).
3) "Hello everybody! I'm hiring for a tech company down the street. Does anybody here need a job? Anybody??? Come on, it's 9am on a Thursday- somebody here needs a job." (Well, maybe after today).
4) "Anyone else feel like they've just arrived at the pearly gates?" (Upon finally entering the gloriously air-conditioned Apple Store after hours in the New York sun and ascending the ominous glass staircase of destiny).
5) "It's going to be weird NOT to be in line. What are we going to do then?" (Umm… go to work, maybe?)
Lost your job but got a shiny new iPhone 4? Leave a Comment!
Follow Mike Keller and GeekTech on Twitter.