Stop the funeral proceedings: The physical smartphone keyboard is not dead.
Following the launch of Verizon's Motorola Droid X this week, there's been some chatter that the era of the physical keyboard is coming to a close. Earlier today, my PCWorld peer Jared Newman declared that the Droid X "signals a shift away from physical keyboards in smartphones, one that's been a long time coming." He suggests that Apple started the trend with the original iPhone, and now the rest of the market is slowly following suit.
With all due respect, I couldn't disagree more.
Motorola Droid X and the Smartphone Market
The keyboard-free phone is a hot commodity these days; there's no denying that. But a strong market still exists for keyboarded phones, and there are no signs of that demand disappearing.
In his PCWorld.com blog, Jared writes that the Droid X's lack of a physical keyboard may be its "biggest distinction" from the original Motorola Droid phone. Here's the problem: The Droid X, in all likelihood, wasn't intended to be a direct follow-up to the original Moto Droid. Or even a direct comparison. It's a wildly different type of device.
The Droid X is Motorola's answer to the HTC EVO 4G: It's a high-end, slate-like smartphone focused on multimedia creation and consumption. It's a plus-sized device with a 4.3-inch display, Wi-Fi hotspot functionality, and 720p video recording with HDMI-out. The similarities are undeniable.
Up until now, Motorola had been lacking a strong contender within this league of phones. The Droid X fills this gap; its lack of keyboard signifies nothing more than the fact that it's meant to be a competitor to a specific type of keyboard-free device.
Motorola's Broader Android Picture
The keyboard-free design of the Droid X may be no shock, then, but Verizon's Android-focused event did have a few big surprises. One of them was the fact that another highly discussed Droid didn't debut.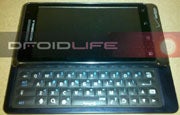 Along with the Droid X, Motorola is believed to be developing a new Verizon Android phone unofficially known as the Droid 2. The Droid 2, according to numerous leaked documents and photos, is everything the Droid X isn't.
The Droid 2 isn't the multimedia beast its X-named cousin is — no, it's a different phone for a different crowd. The Droid 2 appears to have a 3.7-inch screen and a 1GHz processor. It has a 5-megapixel camera and no HDMI port. And yes, it has a slide-out keyboard.
The Droid 2, by all accounts, is the direct sequel to the original Droid.
No one knows for sure why the Droid 2 didn't debut this week (well, a few people do, but they're sure as hell not telling). It's possible that the phone has been scrapped or was never meant for public release. But far more likely is the notion that the phone is just being held for a later date. Wednesday's focus, after all, was on the Droid X; the proximity of that announcement to the iPhone 4 launch was clearly no coincidence. Showing off a second, less bulked-up device at the same time would have taken away from the Droid X's attention, and that's something Verizon obviously didn't want to do.
My guess would be that the Droid 2 will rear its shiny head at some point in the next several months. Remember: The original Droid has been and continues to be an enormous commercial success, and we're not even at the one-year anniversary of its introduction. There's really no rush to bring a similarly structured Android phone to the market this very minute when the original edition is still selling and performing so well.
(On a related note, by the way, we're giving away a free Motorola Droid from Verizon over at my new Android blog. You have until Monday night if you want to enter.)
The Smartphone Keyboard Question
Droids aside, plenty of other popular smartphones continue to use physical keyboards. Most of RIM's BlackBerry devices are keyboard-friendly (they may not be the hottest commodities anymore, but let's face it, they're still in high-demand). RIM's upcoming revamped BlackBerry, which may or may not bring sexy back, is rumored to have a newly designed slide-out keyboard. The Motorola Cliq, Motorola Devour, and Samsung Moment all rock the physical keyboard (and they're all among PCWorld's "10 Best Android Phones Out Now"). T-Mobile's new MyTouch 3G Slide recently joined the keyboard party, too.
I know Steve Jobs says you don't need a physical keyboard on your smartphone. And yes, if you're an iPhone user, his vision is what you get. But for the rest of the smartphone world, choice is key — and rest assured, the option to find a top-notch phone with a physical keyboard isn't going away anytime soon.
Contributing Editor JR Raphael writes the new Android Power blog at Computerworld. You can find him on Facebook or at eSarcasm, his geek-humor getaway.