At a Glance
Expert's Rating
Pros
Comprehensive connectivity for an all-in-one
Excellent display quality
Our Verdict
Aside from a few dings and dents on its specifications sheet, this large all-in-one PC produces great numbers for its relatively meager price.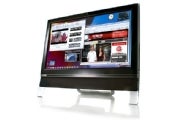 Ordinarily, if you want great performance from a PC, you have to pay a high price. I'm pleased to report that the Gateway ZX6900-01e all-in-one PC delivers, yet doesn't break the bank. This $1020 (as of June 25, 2010), 23-inch model might seem like an expensive proposition, but it offers excellent performance for a system in the big-screen all-in-one class, without sporting a category-defying price tag. That said, on this PC we still encountered a few lapses that make us wish it had just a little more oomph.
Powering the ZX6900-01e is a 2.93GHz Intel Core i3-530 processor, alongside 4GB of DDR3-1333 memory. It's a potent combination–the Core i3-530 is one of the highest-frequency CPUs available on an all-in-one without an Apple logo–and as a result the ZX6900-01e hit a strong score of 113 on our WorldBench 6 suite of tests. That power doesn't quite transfer over to the ZX6900-01e's gaming capabilities, unfortunately: In our tests Gateway's all-in-one did little to impress when attempting to run modern titles such as Unreal Tournament 3 at the system's 1920-by-1080-pixel native resolution. That's integrated graphics for you.
The included 640GB hard drive doesn't exactly provide monster capacity for an all-in-one with a screen larger than 20 inches. The ZX6900-01e's combination Blu-ray reader and DVD burner is less easily found on rival systems, however, and the drive is a perfect complement for the PC's native-1080p-resolution, multi-touch screen.
The ZX6900-01e's display produces a fine-quality picture, with a rich mix of lovely, lifelike saturation and strong contrasts that do much to bring out crisp details in any given scene. Surprisingly, this all-in-one desktop delivers a great picture at extreme viewing angles, too. Though that isn't the kind of situation you'll often find yourself in with a typical home theater setup, it is another indicator of the system's stellar screen. Gateway also packs in speakers that carry an excellent range of highs and lows, even though the sound itself is a bit more center-weighted than I'd prefer.
You can't upgrade any bit of the ZX6900-01e's insides, but the machine's connectivity makes amends for that. The side of this desktop system comes with two USB ports and a multiformat card reader, and the rear hosts four more USB ports, integrated 5.1 surround sound, a gigabit ethernet port, an HDMI port, and an eSATA port. The only thing missing is a TV tuner of some kind, which would have sealed the deal on the ZX6900-01e's ability to handle anything you throw at it.
The system's 802.11n connectivity will give you a little more flexibility to stick the PC in places not normally served by a good old-fashioned ethernet cable. On top of that, the included wireless mouse and keyboard give you flexibility as you interact with your system. Regrettably, the drab layout of both peripherals offers little functionality beyond what you find in any given clearance model in any given electronics store.
Aside from a few nagging factors here and there–the lack of a remote control and the omission of a TV tuner, in particular–the Gateway ZX6900-01e is a compelling all-in-one desktop that covers all the bases with its features and specifications. Using the system is a fun, fine experience that's as pleasing to the eyes as it is to the fingers, and you'll be hard-pressed to find a similar combination of size, cost, and quality in the all-in-one PC category.