At a Glance
Expert's Rating
Pros
Readily upgradable
Speedy six-core processor
Comprehensive connection options
Our Verdict
CyberPower's latest mainstream PC packs a compelling combination of performance and value into an impressive case.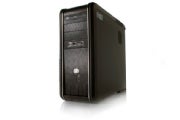 The CyberPower Gamer Ultra 9000 desktop PC is a weird yet pleasing mashup of a mainstream PC's price and a performance PC's specifications list. It wouldn't be fair to measure this system against competing performance desktops, as its cost–a mere $1299 (as of June 24, 2010)–is far below that of a conventional performance desktop. Among machines in the mainstream category, however, the Gamer Ultra 9000 holds its own against some of the fastest models the class has to offer.
CyberPower attempts to stack the deck in its favor by throwing one of AMD's latest chip designs into a killer Cooler Master chassis. The system's six-core "Thuban" CPU, a 2.8GHz Phenom II X6 1055T, rides alongside 4GB of DDR3-1066 memory to create a pretty strong setup for a low price point. It isn't the fastest system (nor the best use of funds) on our mainstream-PC chart, though. In our tests, the Gamer Ultra 9000 reached a WorldBench 6 score of 128–a solid result, but one that the $850 (as of June 24, 2010) Gateway DX4831-03 and its 3.2-GHz Intel Core i5-650 barely beat out, by three points.
As far as optical drives and storage go, the two systems run neck-and-neck–a curious situation, given the price gap. Each holds a 1TB hard drive and a Blu-ray reader. Gateway's system also offers a separate DVD burner.
The similarities don't extend to the machines' respective video cards, however. The Gamer 9000's single-GPU ATI Radeon 5870 ran circles around the DX4831-03's nVidia GeForce GT220 card, doubling the respective frame rates the latter could dish out on our Unreal Tournament 3 benchmark test. On the benchmark's highest setting (2560-by-1600 resolution, high quality), CyberPower's system output an average of 107 frames per second versus the Gateway's 51.7 fps.
Taking a step back for a moment, I have to say that there hasn't been a case this good to look at (or use) in a while. The Cooler Master 690 II Advanced chassis is a sight to behold–and more important, a true delight to use. First off, the case's front-grilled exterior looks sleek with its blue-LED fan illumination peeking out. Better still, the top of the case features a tray that conceals a fully functional hard-drive dock. Yes, you can actually take a bare hard drive, affix it to the top of the case, and run it as if it were inside the system. How's that for portability?
The interior of the 690 II Advanced offers some screw-free operation. The system's two free 5.25-inch bays and four free 3.5-inch hard-drive bays use two different locking mechanisms to help you quickly affix your devices to the chassis. PCI devices install with less-accessible thumbscrews. The Gamer Ultra 9000 provides two free PCI Express x1 slots, one PCI Express x16 slot, and two PCI slots.
Also noteworthy is this system's excellent wiring job, which leaves plenty of room for either air or hands to move throughout the insides of the case. Additionally, the system's preinstalled water-cooling setup is both unobtrusive and unique–we don't often see liquid enter the picture outside of the performance-desktop category. A big drawback, however, is the lack of any manuals or driver CDs. (Note to CyberPower: Not every consumer is a power user.)
The available connection options leave no stone unturned–in this respect, the Gamer Ultra 9000 is one of the most versatile systems we've ever reviewed. The front of the PC is home to two USB ports, the aforementioned hotswappable drive connector, an eSATA port, and a multiformat card reader. On the rear are four USB 2.0 ports, two USB 3.0 ports, a gigabit ethernet port, integrated 7.1 surround sound, HDMI, an S/PDIF optical out, and a DVI and VGA connector. The graphics board, for its part, comes with two DVI connectors, an HDMI port, and a DisplayPort connector. Will we miss FireWire much? Not with that loadout.
CyberPower's Gamer Ultra 9000 delivers excellent general performance and offers some of the mainstream-PC category's best performance to date. The connection options are as numerous as they are encompassing. Storage is ample, too, and the PC's multimedia support is tip-top. You truly get what you pay for with this machine–its price is just right for the category, and it delivers in every major way for a desktop of this caliber.