At a Glance
Expert's Rating
Pros
Integrated 802.11n connectivity
Great performance for the price
Cons
Humble connection offerings
Speakers sound a little distant
Our Verdict
Gateway's 20-inch all-in-one desktop might be fast, but it takes a lot of hits to achieve its balance of speed and cost.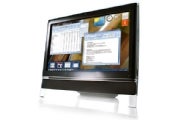 Among budget all-In-one desktops (with screen sizes 20 inches and smaller), you'll find the Gateway ZX4300-01e near the top of the class. This 20-inch, single-touch system-in-a-screen delivers admirable performance for a killer $750 cost (as of June 24, 2010). That's a fairly standard price for the category, but Gateway made a few cuts to reach it–and some of those subtractions can detract from the ZX4300-01e's speed-oriented appeal.
Gateway opts for an AMD-based setup in this all-in-one system, stashing a 2.7GHz Athlon II X2 Dual-Core 235e CPU alongside 4GB of DDR3-1333 memory. That isn't the speediest chip around, but it helped the ZX4300-01e reach a WorldBench 6 score of 97. Compare that with Acer's 23-inch Aspire Z5600-U1352, a big-screen all-in-one that posted a mark of 98 and costs $200 more.
The ZX4300-01e's 640GB hard drive provides a fairly average amount of storage for a system in this size and price classification. And as is the case with a majority of all-in-one PCs, the ZX4300-01e's integrated ATI Radeon HD 4270 GPU does little to allow this machine to show off modern games in any playable capacity.
On the plus side, the games that you manage to get running will look nice. The picture quality of the ZX4300-01e's 1600-by-900-pixel screen is strong. Colors are vibrant–though not phenomenal–and details look clear and crisp through the system's decent contrasts. The ZX4300-01e is a multi-touch PC, and offers support for Windows 7's multitouch gestures.
Correction: A previous version of this review neglected to mention the multi-touch functionality.
Though I did notice that the ZX4300-01e seemed a bit darker than comparable all-in-ones, that was far less of a standout issue than the system's viewing angles. You won't have any trouble staring at this all-in-one head-on, but the picture definitely gives out as you move toward extreme viewing angles. The machine's speakers, meanwhile, sound a little more distant than those of other systems we've reviewed–they don't quite have the boom and pop of other models' speakers.
The ZX4300-01e provides a rather plain selection of connectivity options. The side features two USB ports and a single multiformat card reader, while the rear has four USB ports and a gigabit LAN interface. Since the system lacks a 1080p-capable display, the PC's DVD burner is appropriate; keep in mind, however, that larger all-in-ones offer 1080p and Blu-ray burners, for not much more. At least you'll be able to watch all the YouTube videos you want, wherever you want, using the ZX4300-01e's built-in 802.11n connectivity.
A fairly simple wireless mouse and keyboard accompany the ZX4300-01e. They're nothing much to write about, as neither device features any additional buttons for launching programs or controlling multimedia beyond the standard layout you'd find on any average mouse or keyboard.
In some situations, going the budget route when buying a system is a great way to get your hands on some decent hardware without breaking the bank. The Gateway ZX4300-01e does supply great performance for the amount you pay–but as far as all-in-ones go, I would almost prefer to spend about $300 extra to pick up its larger sibling, the Gateway ZX6900-01e. Once you've given up some connection options, a native-1080p screen, and Blu-ray playback, what you have left in the ZX4300-01e is a speedy but nondescript all-in-one desktop.