Last week I told you how to customize your YouTube home page settings. I thought I'd follow that up with a few more tips for bending YouTube to your will.
Make a YouTube Video Start at the Good Part
So you finally managed to capture video of your kid scoring a goal. You've uploaded it to YouTube, and now you're ready to share the glory that is your offspring with friends and family.
Just one problem: the magic moment doesn't happen until about 6 minutes in. Before you e-mail everyone the link, why not tweak it so playback starts just before the goal? Sure, you could always tell the recipients to "skip ahead" to a certain time, but that's an added hassle for them.
It's really easy to modify the start time of a YouTube link. All you have to do is add #t=XXmYYs to the end, where XX is the number of minutes and YY is the number of seconds.
Suppose, then, that you want your video to start at the 5:45 mark. Just copy and paste the link into an e-mail like you normally would, then add #t=05m45s to the end of it (making sure there are no spaces between the link and the extra code).
That's all there is to it! Now, when anyone clicks that link, they'll jump straight to 5 minutes, 45 seconds (or whatever spot on the timeline you've chosen).
Force YouTube to Play HD Videos Every Time
My preferred method of viewing YouTube vids is full-screen. However, when I click the player's Full Screen button, I'm treated to rather grainy video. That's because YouTube doesn't automatically bump the resolution to its highest available setting. I have to click the resolution selector and choose it myself. I'm a busy man. I don't have time for that!
Fortunately, there's a setting that will force YouTube to switch to HD playback whenever you switch to full-screen viewing. Here's how:
Go to YouTube and sign into your account (if you're not already signed in).
Find your user name in the upper-right corner, click it, and then choose Account.
Click Playback Setup, then select the following option under Video Playback Quality: "Always play HD when switching to fullscreen (when available)."
Click Save Changes.
Keep in mind that not all videos offer an HD option, and that playback may get jerky if you have a slow connection. A little trial and error might be in order.
Stop 'Related Videos' From Appearing
One thing I really don't like about YouTube is those "related video" suggestions that immediately pop up at the end of each clip. I rarely want to see them in videos I'm watching, and I especially don't want them showing up in videos I've embedded for others to see.
If you feel the same, you'll be glad to know there's an easy way to disable related-video suggestions in videos you're embedding on your Web site, blog, and so on. Here's how:
Go to the YouTube page for the video you want, then click the Embed button below the player.
Remove the check mark next to "Include related videos."
Copy the code in the Embed field, then paste it wherever you need it to go.
Presto! The video will be embeded without showing related videos at the end.
Download YouTube Videos for Offline Viewing
Ever wish you could watch that piano-playing cat at 35,000 feet? Alas, YouTube requires a live Internet connection, and Wi-Fi is still pretty hard to find in the friendly skies. Fortunately, you can download YouTube videos to your PC for anytime, anywhere viewing, no Internet required.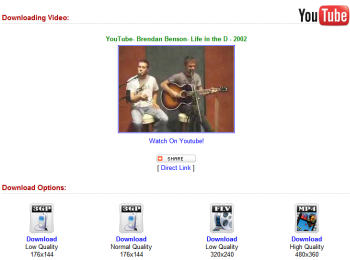 There are countless ways to "rip" YouTube vids, but I'm partial to Keep Tube. It's available as both a Firefox extension and a browser bookmarklet, the latter compatible with Chrome, Internet Explorer, and so on.
What's more, Keep Tube works with not only YouTube, but also CollegeHumor, Facebook, Google Video, Metacafe, and countless other sites.
When you see a video you like, just click the Keep Tube icon (in Firefox) or bookmarklet. From there you'll land at a Keep Tube page where you can download your video in one or more formats and sizes.
My advice: choose MP4 whenever possible, and always at the highest available resolution. YouTube's native FLV format requires a special player, whereas MP4 works in Divx, QuickTime, and other more-common players. Also, MP4 files usually play nicely on smartphones, so you can take your saved videos to go.
If you've got a hassle that needs solving, send it my way. I can't promise a response, but I'll definitely read every e-mail I get–and do my best to address at least some of them in the PCWorld Hassle-Free PC blog . My 411: hasslefree@pcworld.com . You can also sign up to have the Hassle-Free PC newsletter e-mailed to you each week .