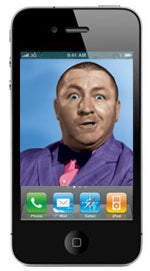 Apple is crowing about a record 1.7 million iPhones sold over the first three days of the device's June 24 debut, but the rollout may also be setting another unofficial record for company carelessness–a rare flub from a tech firm renowned for its meticulous attention to detail.
Reports abound of numerous iPhone 4-related snafus, including a signal glitch where the new phone's much-hyped external antenna is subject to human interference when a user covers the iPhone's lower left corner with a hand.
Apple's response? Don't hold the phone that way. As my PCWorld colleague Jared Newman points out, that dismissive attitude is far from the consumer-friendly Apple we've come to expect.
And then there are reports of discolored iPhone 4 screens with yellow blotches, and handsets with reversed volume buttons where the – key is below the +. Colleague Melissa J. Perenson points the proximity sensor on the iPhone 4 has a nasty habit of putting private calls onto the phone's speaker phone. Add to that gripes from iPhone 4 users about bugs in the new FaceTime video chat program, including crashes that aren't even resolved by a phone reboot, and you've got a smartphone that seems not ready for prime time.
Who knows, perhaps iPhone 4 was a rush job, a product pushed to market before all of its kinks were ironed out. If true, it would raise questions as to whether Apple's impatience was related to the recent "lost iPhone" fiasco, in which tech blog Gizmodo bought a preproduction iPhone 4 and posted an in-depth preview against Apple's wishes. After all, by the time Steve Jobs debuted the new iPhone during his WWDC keynote this month, Apple's competitors already knew the ins and out of the gadget.
Too Much Success?
I only hope Apple isn't getting too cocky or complacent. Being on top of the tech world can do that to a company–just ask Microsoft, which now finds itself scrambling to catch up in a market dominated by mobile devices.
Apple has other problem areas too. Its iOS4 launch, for instance, is generating its own controversies. Users upgrading their iPhones and iPod touches are complaining that the multitasking feature in iOS4, the latest OS for the Apple's mobile devices, is cutting their battery life dramatically. Some iPhone owners are griping that the new iOS4 multitasking is awful. And Apple has acknowledged that memory issues may cause some iPhone and iPod touch apps to close unexpectedly.
Certainly, new hardware and software will have their growing pains, and Apple is addressing its iPhone 4 and iOS4 woes. But is the company getting a pass here? I'll bet that other big-name tech companies would be hammered mercilessly if they launched a product with the number of glitches bedeviling the iPhone 4. But with Apple, there's a collective shrug.
Given its mostly stellar track record, perhaps Apple has earned a pass this time. Then again, I wouldn't be as understanding if I couldn't get a decent cell signal on my brand new $200 iPhone 4.
Contact Jeff Bertolucci via Twitter (@jbertolucci ) or at jbertolucci.blogspot.com .