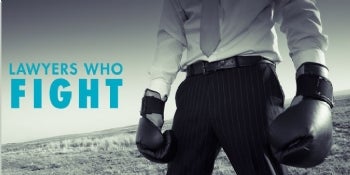 A California law firm may be looking to build a class action lawsuit against Apple over the iPhone 4's network reception issues, now known online as the iPhone 4 death grip. "If you recently purchased the new iPhone and have experienced poor reception quality, dropped calls, and weak signals, we would like to hear from you," reads a notice on the Web site for the law firm Kershaw, Cuttiner and Ratinoff.
The Sacramento-based injury attorneys, who market themselves as "Lawyers Who Fight," are only conducting an investigation into the iPhone 4, and have not announced a formal lawsuit filing.
iPhone 4 death grip may become Apple chokehold
Soon after Apple launched the iPhone 4 on June 24 users started complaining of cellular reception loss caused by gripping the new iPhone in the lower left corner. Unlike its predecessors, iPhone 4's antennas for phone and data connectivity are integrated into the steel band encircling the device. The phone antenna appears to be located right where you would normally place your palm. So instead of improving signal strength–as the new steel band is meant to do–your hand ends up interfering with reception resulting in dropped calls and generally poor phone reception. PCWorld was able to replicate the reception issues during independent tests.
Apple responded to the iPhone 4 antenna complaints by saying that gripping any cell phone causes some signal loss, with "certain places being worse than others depending on the placement of the antennas." The company suggested that users should either adjust their grip so they don't cover "both sides of the black strip in the metal band" or to purchase an iPhone case that prevents your hands from coming in contact with the steel band. Some users have found that placing Scotch Tape around the affected areas will also prevent signal loss.
Will iPhone 4 users unite?
It's not clear yet if Kershaw, Cuttiner and Ratinoff will be able to build a case against Apple over the iPhone 4 problems, but the firm is certainly no stranger to bringing class action suits against technology firms, according to Gawker. In late 2009, the firm filed a lawsuit against Facebook and Zynga, the social gaming company behind Farmville and Mafia Wars, over allegedly deceptive third-party promotional offers presented to users. The third-party offers were first detailed in TechCrunch's multi-part series, Scamville.
Connect with Ian on Twitter (@ianpaul).??