Ever get the itch to build your own PC powerful enough to handle HD video editing?
For serious geeks, and alike, there is nothing better than the bragging rights of booting up your very own custom rig. Whether you're a gamer looking for the ultimate machine or a hobbyist looking to test your geek skills, follow these steps outline for you in this series by Nick Barber of the IDG News Service.
This article is the first in this seven-part series of how-to stories coupled with instructional videos on building a powerful desktop computer from scratch.
(The other sections of this series can be viewed through the links box to the right.)
Building your own PC isn't for everyone. First off, it won't be cheap. IDG News Service spent $5225 on components and software to build this video-editing rig.
Of course you can spend less on components for a less powerful PC. But if you're looking for a way to save money, buying a computer assembled in Taiwan with generic components will always be cheaper.
Let's Get Started
Of course the first step is to buy the components for your ideal PC.
There are some advantages to building your own PC, like picking out the exact parts you want and building it to your own specifications. It's also going to cost less than buying a computer from a typical retail outlet.
Here's a video on what to consider before you rush out to shop:
One of the drawbacks of building your own system is that rather than the full system being under a single warranty, each individual part has a warranty under its manufacturer. If something goes wrong, it may mean contacting each company separately.
The PC we're building will be built for video editing, so there will be a lot of high-end components, but regardless, every computer needs certain parts.
Checklist for Components
The motherboard is the control center of the PC, where most of the components and chips plug into. When buying a motherboard, make sure it has the correct number and sizes of sockets for your CPU, memory and other cards. We chose the EVGA E760 Intel X58 motherboard, for about $420.
When unboxing components, most parts will come in antistatic bags. It's important to keep them in these bags until you're ready to assemble. Static shocks can ruin PC components, so be sure to ground yourself by touching metal before handling a component, or by wearing an antistatic wrist strap.
Next is the processor, which is the brains of the PC. We chose an Intel Core i7-980X. It's a 3.33-GHz, six-core desktop processor. It also has hyperthreading, which means there will effectively be 12 processing cores for the computer. This would be overkill on a traditional desktop, but since we'll be editing video with it, the 12 cores will be very useful. For this particular CPU, Intel included a cooling fan, heat sink and thermal paste. You could use them, but we opted to buy our own. The CPU cost about $1,000.
After the CPU, RAM is one of the most important components of a PC. If you're installing a 32-bit operating system, it will only be able to use 3 gigabytes of memory. If you're installing a 64-bit OS, then memory is only limited by your budget. Memory is important, especially if you plan to run multiple high-powered applications. We chose 16GB of DDR3 SDRAM from GSkill. It cost about $730.
For our graphics processor, we chose an Nvidia Quadro FX 3800. It's designed to take advantage of the Mercury Playback Engine in Adobe Premiere CS5. That means that some of the video rendering will be off-loaded from the CPU and onto the GPU, resulting in faster export time and real-time effects processing. The card has its own built-in fan as well as one DVI and two HDMI outputs. It cost about $800.
For optical drives we purchased both an internal Blu-ray player and burner as well as a traditional CD-ROM drive and burner. The benefit to having two optical drives is that it makes it easier to copy discs. With a Blu-ray burner it's possible to burn 1080p video and play it back on a Blu-ray disc player. The Pioneer Blu-ray disc/DVD/CD writer cost about $200 and the Lite-On 24x DVD writer with Lightscribe cost about $32.
Next: Hard Drives
Hard Drives
Many PCs usually have a single hard disc drive, but for our computer we will be installing three. The first one is a Western Digital VelociRaptor 150GB, 10,000 RPM SATA 3Gb/s drive. That means that the storage capacity is 150GB. It spins at 10,000 revolutions per minute, which is fast for a drive, and its data transfer speed is 3 gigabits per second. We plan to install our operating system and Adobe CS5 on this drive. We also considered installing a solid state drive, but because of cost, storage capacity and reliability concerns, we decided to install a traditional drive.The other two drives are Western Digital Caviar Black 1TB 7200 RPM 6Gb/s drives. That will give us two terabytes of storage and fast data transfer. The first drive cost about $150 and the last two cost about $100 each.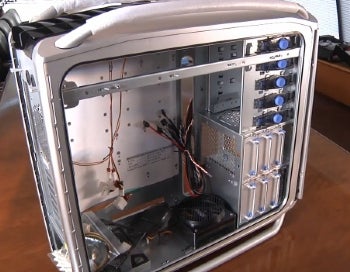 Our motherboard and case have some USB ports, but we wanted to add more. We bought a Rosewill USB 2.0 adapter that has five USB ports. It will plug into our motherboard and add five ports on the back of our case and one port on the inside. It cost $12.
On the front of our case, we'll add a card reader with five slots that can handle more than 30 types of media cards like SD, compact flash, MicroSD and others. It also includes one extra USB port. The Koutech all-in-one card reader cost $20.
As mentioned before, we decided to choose an after-market fan and heat sink to cool our CPU. It's important to buy a powerful enough fan so that the CPU doesn't overheat. For our system we chose the Arctic Cooling Freezer 7 for about $40. We also bought Arctic Silver 5 thermal compound for about $10.
The last internal component for the system is the power supply. Power supplies are measured in watts, and for our high-end system we chose a Silverstone ST1000-P modular active PFC power supply. The nice feature about this unit is that you only have to attach the plugs that you need. In some power supplies all of the wires are permanently attached to the unit, so the leftover ones that aren't used end up sitting bundled in the bottom of the case. It cost about $190.
In addition to the main hardware components of the PC, you may want to consider some peripherals. We already have two monitors and a keyboard, so we don't need to buy them. We instead bought a Logitech S-220 17-watt 2.1 speaker system for about $30, an eight-button Logitech MX 518 wired optical mouse for $43, a Logitech C600 2-megapixel USB webcam for $70, a Cirago BTA-6210 USB Bluetooth dongle for $25, a 20-count of blank Blu-ray discs for $30, and a Hauppauge dual TV tuner card for $115.
The Case
To house all of the components we chose a full-size tower, the Cooler Master Cosmos 1000 for $170, because it had a number of features we liked. It has four built-in cooling fans, enough bays to install up to six hard drives internally and five bays on the front panel. On the top of the case are four USB ports, a firewire and E-SATA port, and microphone and headphone jacks. The case also has sound deadening.
The two main pieces of software for the PC are Windows 7 Ultimate, the top tier of Microsoft's newest OS, as well as Adobe Production Premium CS5. Windows 7 cost $285 and the CS5 upgrade cost $570.
In total, the parts cost about $5,225, plus shipping and applicable taxes.
Next: In Part 2, we show you how to install a motherboard.
(Justin Meisinger in Boston contributed to this report.)
Nick Barber covers general technology news in both text and video for IDG News Service. E-mail him at Nick_Barber@idg.com and follow him on Twitter at @nickjb .