The motherboard, sometimes abbreviated "mobo," is the most basic part of the PC, but also one of the most important as all of your internal components will interact with it. Our motherboard is an EVGA E760 Intel X58. It supports our Intel Core i7 processor, fast DDR3 RAM, has multiple high-speed PCI-Express slots and a number of external ports like USB, Firewire and E-SATA.
This motherboard is an EATX board, which tells us what kind of case it can fit into. Since we purchased a full-size case, there should be no problem fitting it.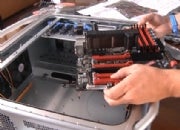 First, determine what screw holes you'll be using to attach your motherboard to your case. There is usually a template included with your motherboard that will tell you what holes to use with what kind of case.
Then locate the brass screws that came with your case and screw them into the holes that match the hole layout on your motherboard. These brass screws let the motherboard sit away from the metal on your case.
Take the accompanying port panel that shipped with the motherboard and insert it into the back of the case. The port panel is motherboard-specific and allows the motherboard ports –USB, Ethernet, etc.– to be accessed from the back of your case. It also functions as a barrier to keep dirt and dust from entering the case.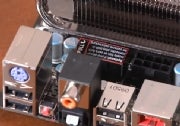 Lining up the motherboard with the brass screws and the port panel you just installed, proceed to screw down the motherboard. Use the correct screws as indicated by your manual and make sure each screw is securely tightened. The screws should be snug, but not too tight otherwise you could crack your motherboard.
When you're done, you can begin installing your other components.
This video guides you through the process of installing a motherboard.
Next: How to Install a Processor in Your PC
(Justin Meisinger in Boston contributed to this report.)
Nick Barber covers general technology news in both text and video for IDG News Service. E-mail him at Nick_Barber@idg.com and follow him on Twitter at @nickjb .