CloudZap ($60, 30-day free trial) allows for easily sending documents to services such as Box.net, Google Docs or Microsoft SharePoint when you print or scan a file. It can send to multiple such services at once, and also zap files off to the services via Windows Explorer.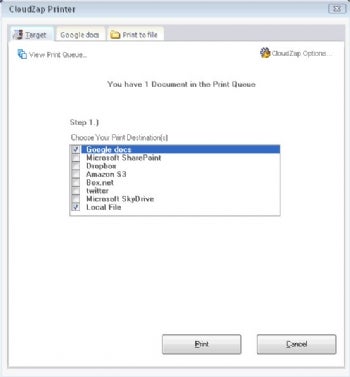 The $60 utility includes three components: CloudZap Printer, Scanner and Publisher. The Printer app creates a new "CloudZap Printer" selection among your installed printers that can be selected when you print from any application.
After choosing the CloudZap printer, you can choose from eight different destinations for the file, including Google Docs, Microsoft SharePoint, Dropbox, Amazon S,3 and Box.net. Twitter, Microsoft SkyDrive, and sending to a local file on your PC round out the selections. The first time you choose a given service, you'll need to provide your username and password and other initial setup info. You can choose multiple destinations, and send your file to all of your choices at once.
The CloudZap Publisher and Scanner apps work in a similar fashion. The Publisher allows for selecting existing documents, either by starting the app directly and browsing for files or right-clicking a file in Explorer and selecting "Send to CloudZap Publisher." The Scanner program can kick off a scan without having to push buttons or start up external software, and also includes an OCR (optical character recognition) feature that can convert a scanned image to a text document.
All three apps send the files to your selected services in the .pdf format, while the Scanner allows for also selecting .tiff output.
CloudZap installed easily, and I had it zapping files about after a few minutes of setup (largely just logging into my selected services). It could do with better guidance about how to use it, as CloudZap currently installs and then goes away with nary an instruction about what to do next. A better move would be to automatically open the Getting Started guide you'll find in the program's Start Menu.
Business users who need to share many files among multiple services would likely get the most out of CloudZap.