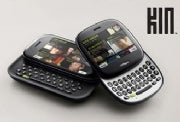 The dustbin of tech history is littered with products and product concepts that just didn't catch on: Foleo, Pippin, Origami, Newton. Now you can add "Kin" to the list. Gizmodo reports that Microsoft has killed off its Kin smartphone concept.
For the uninitiated, Kin is Microsoft's almost-but-not-quite-a-smartphone, and is geared toward younger audiences and heavy social network users. In theory, it sounds like a decent idea, though perhaps not a world-beater. However, Business Insider caught wind of a rumor that Microsoft sold only 500 Kins.
You read that correctly; five hundred sold. To be fair, it's hard to say whether or not this figure is accurate–when MarketWatch asked Microsoft to comment on the report, the Microsoft PR rep wouldn't give any sales figures. But it's probably safe to assume that, even if the 500-Kins-sold figure is incorrect, the Kin hasn't exactly been flying off the shelves.
According to Gizmodo, Microsoft says that it will roll the Kin development team into the Windows Phone team. From a practical standpoint, this move makes total sense. Given the fact that Microsoft is significantly behind Apple and Google in the mobile OS war, it's probably in Microsoft's best interest to focus its energy on one mobile OS. In the bigger scheme of things, though, it suggests that Microsoft's smartphone unit seems to lack a cohesive vision of what it wants to be and where it wants to go.
What did you think of the Kin? Are you surprised by Microsoft's decision? Should the Kin have even seen the light of day to begin with? Sound off in the comments. And see PCWorld's smartphone page for more smartphone news and reviews.