Anime Studio Pro ($200, 30-day free trial with some feature limitations) is the full-featured, professional version of Smith Micro's bone-based animation app. Although not a standard application in the world of professional animation, Anime Studio Pro is an extraordinary alternative path into to the world of 2D and 3D animation.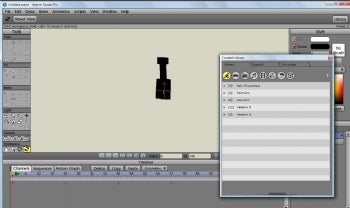 Both the Debut and the Pro versions Anime Studio use a bone-based interface, meaning you animate a character by moving its underlying skeletal structure, similar to how you'd move a clay figure in real life stop motion animation. This makes animating a character fun and intuitive, whether it's one of Anime Studio's default characters or something new that you create
New in Anime Studio Pro 7.0 is integration with another Smith Micro product, Poser. Unlike Anime Studio, Poser is a widely-used app in the animation business, as it lets people create three-dimensional figures and "pose" them in a 3D background. This is highly useful for artists and animators, and now these scenes can be imported into Anime Studio. Once you bring the scene into Anime Studio, you can then add a bone structure to this 3D figure and animate it on the screen. This works without any hiccups, but note that Poser's OBJ format is required for its complete scenes; you can't just import textures and models from Poser on a piecemeal basis. This feature was technically present in earlier versions of Anime Studio, but it required enough technical knowledge to run a Python script. Now, it's completely integrated.
Also new in Anime Studio Pro 7 is a built-in content library, which allows you to access local content and content on Smith Micro's Content Paradise site easily, including hundreds of free and paid objects.
If the new features detailed are important to you, go for the Pro version. If you need more of an introduction to animation and are by no means an expert, consider Anime Studio Debut first. The registered version of Anime Studio Pro costs $200, but the lesser-featured Debut costs $50–and upgrading from Debut to Pro costs $130. Simple math shows that it makes sense to go the Debut route regardless, and upgrade if you need to do so. With either of the Anime Studio products, you'll have a lot of fun learning how to animate.
Note: The Anime Studio Pro trial is functional for 30 days. Certain specific features are disabled during the trial period: importing any external file formats including images and movies, and exporting animations to other formats (QuickTime, AVI, Flash, etc.).