The appropriately named SkipScreen add-on for Firefox aims to brush past the intermediary screens with ads or wait timers used by download sites such as Megaupload.com or zShare.net. But this free add-on may not work for all the advertised sites.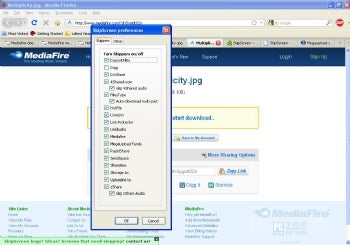 In my testing, SkipScreen turned in mixed results. It worked as intended for Rapidshare, one supported download site. Without SkipScreen, I had to click through two intermediary screens (that encouraged moving to a premium SkipScreen account) before I could download my file. With SkipScreen, I went straight to the download. On the other hand, downloads from zShare.net were the same with or without SkipScreen. In both cases I had to wait 50 seconds and then click a download link.
And then there was MegaUpload.com. Without SkipScreen, I had to type in a 4-character captcha, and then wait 45 seconds, after which I could click a button to download the file. With the Mozilla-hosted SkipScreen installed, I still had to enter the Captcha and wait the 45-seconds, but I didn't have to be on that page to click the resultant download button. SkipScreen did automate that final step.
However, SkipScreen also advertises a self-hosted version of its add-on that can automate the Captcha entry on MegaUpload. With that version installed, I didn't have to type in the Captcha, but I still had to wait the 45 seconds.
SkipScreen says it hosts its own add-on because Mozilla doesn't allow for captcha-busting. In addition, the SkipScreen-hosted version will attempt to change your home page to a Bing.com search page, install a Bing search toolbar, and change your default search engine to Bing. You can opt out of all these choices, but they're not a part of the install process for the Mozilla-hosted add-on.
Not surprisingly, neither version of the add-on is well liked by download sites. SkipScreen writes that last year, Mediafire.com requested that Mozilla remove SkipScreen from addons.mozilla.org (and Mozilla refused). Currently, attempts to download from Mediafire with SkipScreen installed will occasionally instead display a blocking page that says the site has detected an automated bypass attempt.
If you often pull down files from popular download sites, SkipScreen may save you time and frustration. Just keep in mind that the add-on may not work as intended for all sites, and that the SkipScreen-hosted version of the add-on, which has additional functionality, has not been vetted by Mozilla.