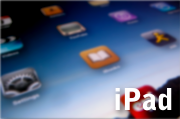 If you are like the millions of people out there who want to bring their iPad everywhere they go then iPad owner Jess Rosten has the solution for you!
Jesse discovered that combining Velcro and an iPad results in some novel uses for Apple's wonder gadget. Just slap one side of some industrial strength Velcro to the back of your iPad and slap the other side to anything you please (for easy moving from one place to another): On your wall to display photos, the dashboard of your car or motorcycle to display GPS navigation, or to the top of your oven for play-along cooking videos.
Jesse's video–which got posted on Apple's site–shows these and some other really creative uses for putting the two together.
The potential ideas for putting the two together are as many as your mind is capable of grasping. God forbid that you place the two on your steering wheel and tweet, but nonetheless, the option is there, as reckless as it may be.