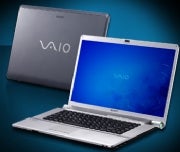 Sony and the U.S. Consumer Product Safety Commission announced on Wednesday a product recall for Sony Vaio laptops affecting more than half a million notebooks worldwide. Affected laptops pose a burn hazard due to potential overheating, but Sony has issued a firmware update that the company says will fix the issue. The USCPSC, a federal agency charged with overseeing product safety, advises users to stop using recalled products immediately until you have updated your computer.
The recall is for Sony Vaio laptops with model numbers beginning in VPCF11 and VPCWW2. The devices were typically purchased between January, 2010 and April, 2010 and sold for prices ranging from 800 to 1500 dollars.
Here's a quick breakdown of everything you need to know to figure out whether you're affected by the recall and how to fix your laptop.
How many Sony Vaio laptops are affected?
Sony says that about 535,000 laptops worldwide and 259,000 laptops in the U.S. are affected by the issue.
Which model numbers are affected?
Sony Vaio laptops with the VPCF11 and VPCCW2 notebook series are affected by the overheating issue. You can find a complete list of specific model numbers within each notebook series on Sony's Website .
What's the worst case scenario for laptops that overheat?
The overheating issue has the potential to be a burn hazard for users; however, no injuries have so far been reported. Sony has received 30 reports of deformed keyboards and laptop casings because of the issue. In other words, parts of the laptop melt.
What should I do if my computer overheated already?
You can give Sony a call at (866) 496-7669, and the U.S. Consumer Product Safety Commission would also like to hear about your problem. You can fill out an incident report on the Commission's Website .
How do I fix my computer?
You need to download a BIOS firmware update, but before you do that you need to know your computer's model number and your operating system type.
How do I find my model number?
The easiest way to find your model number is to look for a small label on the frame of your notebook screen or near the hinge between the screen and the keyboard. The label should be the same color as your computer, with contrasting letter colors. You can also look for a white product label on the bottom of your laptop. Sony warns that this label could be placed anywhere on the bottom of your device, so you may have to look closely to find it. The tag should look something like this: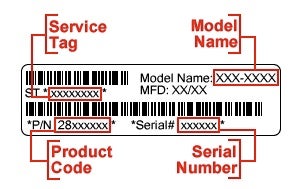 Sony warns you not to use the model information found on the grey product label on the bottom of your notebook. This label does not have the information you're looking for. For more information about finding your product label check out Sony's eSupport page .
If you can't find your label, another option is to let Sony auto-detect your model number. To do this, go to Sony's eSupport Website using Internet Explorer, and click on the "Detect my model" button on the right side of the page. You'll then download a small program that can determine your model number. If all else fails, you can call Sony technical assistance at (866) 496-7669.
32- or 64-bit?
It appears that all the affected computers should be running Windows 7, but if you have a VPCCW2 device you are either running Windows 7 32-bit or 64-bit. You can determine which version you have by either checking the label on the system disks that came with your notebook or click on Start>Control Panel>System and Maintenance>System. This will display a variety of information about your system including your installed memory (RAM), processor and system type.
What's the remedy?
The overheating issue can be fixed with a BIOS firmware update, according to Sony. You can download the update here from Sony's Website , but you need to make sure you pick the correct update for your model number and operating system type. So read carefully.
Precautions before you install
You can download and run the update just like you would any other program download. My colleague Tony Bradley offers some good advice before you start to install the update. First of all, make sure your computer is plugged in while you download and install the BIOS update. If you don't plug it in you risk bricking your notebook should your battery power fail in the middle of the update. You should also make sure you backup all your files and folders just in case you run into difficulties. Check out PCWorld's 7 Backup Strategies for more information on how to backup your data.
This is the third time Sony Vaio laptops have been hit with major product recalls. In 2006, Sony was forced to issue a recall for 90,000 battery packs sold in Japan and China. More recently, Sony recalled 73,000 Sony Vaio TZ-series laptops in 2008 due to faulty wiring near the notebook hinges. Sony was also at the center of a multi-year battery product recall that affected manufacturers like Acer , Apple and Dell .
Connect with Ian on Twitter (@ianpaul ).