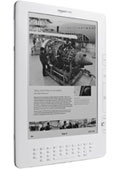 Amazon had no choice but to slash the price of the Kindle DX, the bookseller's oversized e-reader, to $379–a substantial $110 drop. The device is facing competitive pressure at both ends of the e-book spectrum, and it increasingly looks like an oddity among Apple iPad-style tablets and smaller, more conventional e-readers.
A price war has flared up at the low end of the market, with standard-sized devices (typically a 6-inch, non-backlit display) from Amazon, Barnes & Noble, and Kobo now selling in the $150-$200 range. At the high end, Apple's iPad starts at $499, and upcoming tablets from Asustek, Dell, HP, and other vendors could very well match the DX's price point.
Odd Duck
The Kindle DX, of course, isn't an iPad-style tablet, nor was it designed to be. It's essentially a plus-sized e-reader with a 9.7-inch display; global 3G service for downloading e-books and a limited selection of Web-based content; and a mini-keyboard that's sufficient for limited text entry.
In short, it's a nonconformist struggling to find a niche. Want to read in coach on a cross-country flight? Lounge by the pool and indulge in a trashy bestseller? Take your e-reader to the gym? The smaller devices are a better ergonomic match for these uses. Sure, the Kindle DX has a larger screen, but its bigger form factor can be a disadvantage too. A smaller e-reader is easier to pack. It's lighter too. (Yes, we're talking a few ounces here, but those add up when you're holding a reader for hours at a time.)
Tablet shoppers? Kindle DX isn't on their radar screen. The iPad crowd wants a whiz-bang gadget for apps, games, movies, and music–and that's not the Kindle's thing. Besides, the DX looks old school, even if it isn't. There's no touchscreen or color display. The device's e-ink screen, while excellent for book-reading, doesn't dazzle at first sight. Younger customers might thing, "Hey, this would be great for my mom…"
Oh no. The stench of uncool.
Kindle DX may ultimately find its niche in vertical markets such as education, where e-textbook readers could prove an affordable alternative to conventional textbooks. (Come to think of it, anything would be more affordable than today's overpriced textbooks.) However, a trial run at Princeton University last year was a bust, with students griping about the DX's slow performance, poor annotation tools, and page-reformatting quirks.
The market for standalone e-readers isn't going away, particularly if vendors continue to slash hardware prices. The Holy Grail appears to be the $50 to $100 reader–a very attainable goal if Amazon, Barnes & Noble, and the rest of the e-book pack copy a page from the printer manufacturers' playbook and sell their hardware at or below cost. Profits would come from e-book sales.
Even if this business model succeeds, however, the Kindle DX will not. It's an e-reader oddball with murky future.