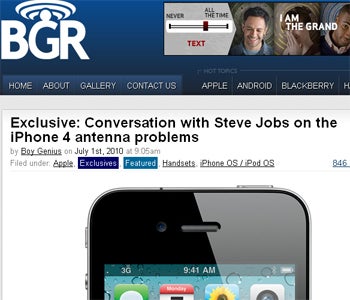 Apple says a recent e-mail exchange between CEO Steve Jobs and an irate customer discussing the iPhone 4 antenna issue is a fake. The e-mail thread, first published by Boy Genius Report, appears to show Jobs telling the customer to "calm down" and not get worked up over rumors. Almost immediately, the authenticity of the e-mail exchange was called into question, and now Fortune is reporting that Apple's public relations team has "emphatically denied" that the e-mail responses were written by Jobs.
It Started on YouTube
The purported e-mail exchange started after a person BGR called "Tom" uploaded one of the many YouTube videos showing how the iPhone 4's cellular signal degrades when held a certain way.
The person BGR identified as Tom was later revealed to be Jason Burford of Richmond, Virginia. Burford says that Apple contacted him and asked him to not to post further YouTube videos showing the iPhone 4 antenna issue, according to BGR. Burford then sent a follow-up e-mail to Apple and cc'd Jobs resulting in the purported exchange with Apple's chief.
Surprising but Not Impossible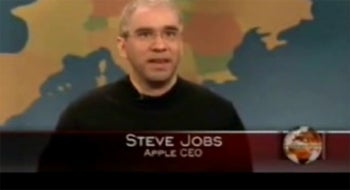 At first glance, the e-mails appear to be credible. Steve Jobs is known for his terse replies to customer complaints and questions, even if he has never been known to tell someone to "calm down." The e-mails also correspond with Apple's denial that anything is wrong with the phone, and purported AppleCare customer service guidelines that essentially tell Apple representatives not to admit there's a problem with the iPhone 4.
Shadow of Doubt
Shortly after BGR's story came out, however, AppleInsider reported that Burford had approached the blog and offered to sell his e-mail exchange with Jobs to AI. Burford said the e-mail headers for the messages proved its authenticity, and quoted Jobs' purported comment that Burford should "calm down." BGR has not stated whether or not the blog paid for the e-mail exchange.
A few hours after AI published its report, Fortune received a response from Apple PR stating that the Jobs did not write the e-mail responses as published by BGR.
BGR Not Backing Down
Despite the denial from Apple PR, BGR is not backing down from its position that the e-mail exchange is "100% legitimate." The blog has updated its post with a copy of the e-mail headers and full exchange showing Burford discussing the issue with sjobs@apple.com, Jobs' well-publicized public e-mail address. BGR has also posted screenshots of the e-mail exchange contained within the iPhone's Mail application and shots of the e-mail exchange on a computer screen within a desktop e-mail client.
So what do you think? Has BGR supplied enough proof to convince you or do you believe Apple PR's stringent denial that the e-mails are fakes?
Connect with Ian on Twitter (@ianpaul ).