Besides the processor, a few other components will plug into the motherboard. The RAM, also known as memory, is important for storing information while your applications and operating system are running. The more RAM, the more applications that can run simultaneously.
You may also notice that your computer is generally more responsive with more RAM. For video editing, we'll need a lot, so we've gone with 16GB of Quad Channel DDR3 RAM. Make sure you buy the appropriate type of RAM for your motherboard.
When handling the RAM be sure to beware of static discharge. Always touch a metal piece of the case before touching a component or wear an anti-static wrist strap.
Locate the RAM slots on your motherboard. The motherboard we're using has six of them, but we'll only be using the first four, from left to right. Be sure to reference your motherboard's manual to determine what order you can use the slots. Do not insert the RAM into slots at random.
RAM only fits one direction, so make sure it's oriented correctly and then press down firmly. If you've inserted it correctly the little latches on the sides will snap into place on their own. Repeat this process for any remaining memory.
Peripheral cards, like our Nvidia Quadro FX3800 video card, are installed similarly.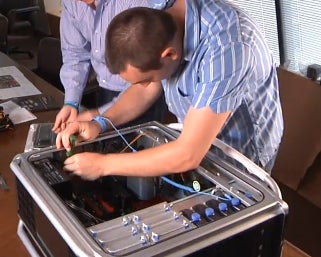 First, determine which slot to use. For the Quadro, we want to use the 16x PCI-Express slot. Unscrew and remove the slot cover from the back of the case that lines up with the PCI Express slot. Insert your video card with the ports facing out the back of the case and press down firmly. The card should fit snugly in the slot. Remember to secure the card with the screw you took out previously. It may take a little force to line the card up with the whole for the screw, but that is normal. It's important to secure the card because if it moves while you're computing, it won't perform well, or at all.
Aside from the video card, we also installed a TV tuner and additional USB ports. They can be installed the same way. Here's a video to show you more:
Next: How to Connect Your PC's Power Supply
(Justin Meisinger in Boston contributed to this report.)
Nick Barber covers general technology news in both text and video for IDG News Service. E-mail him at Nick_Barber@idg.com and follow him on Twitter at @nickjb .