Configuring the BIOS is going to be one of the final steps to setting up a new PC. The BIOS is software built on to the motherboard that manages the installed hardware.
On first boot, you'll likely receive an error message. That's because BIOS settings need to be configured.
Our EVGA motherboard uses Phoenix AwardBIOS, and we have categories called Standard CMOS Features and Advanced BIOS Features.
Selecting Standard CMOS allows the time and date to be set. It also presents us with a list of connected hard drives and optical drives. If one of your drives is missing you may want to check your connections. At the bottom it also displays how much RAM is installed. If the actual installed RAM and this number differ, then check and make sure the memory is seated properly on the motherboard.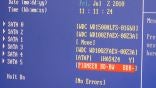 Advanced BIOS Features will allow us to pick the order in which our drives are checked on startup. For the initial setup of Windows, we're going to set the CD-ROM drive to boot first because that's where our Windows 7 setup disc will be. After Windows is installed, change this setting back to your primary hard drive.
The other categories in the BIOS will vary by motherboard. The BIOS will let you adjust more advanced settings ilke your RAM timings or the voltage to your processor for overclocking. We won't be discussing that, though because every configuration is different. Here's some video help: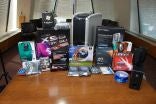 When done with the BIOS settings, insert the operating system setup disc into the CD-ROM drive. Save your settings and exit the BIOS. Your computer will then restart and the Windows installer should load. After installing the OS, enjoy your new PC!
(Justin Meisinger in Boston contributed to this report.)
Nick Barber covers general technology news in both text and video for IDG News Service. E-mail him at Nick_Barber@idg.com and follow him on Twitter at @nickjb .