Deborah Armstrong wants a portable, off-a-flash-drive program for checking out a PC's specs before she buys.
The people running computer stores generally frown on potential customers plugging flash drives into their floor models. And they have good reason to frown. How do they know you're not uploading malware–intentionally or otherwise?
That's why, if you want to check out a PC's performance in the store, you should look at its Windows Experience Index. The software is already there in Windows 7 (which I assume this new computer is running), so you don't have to plug anything in.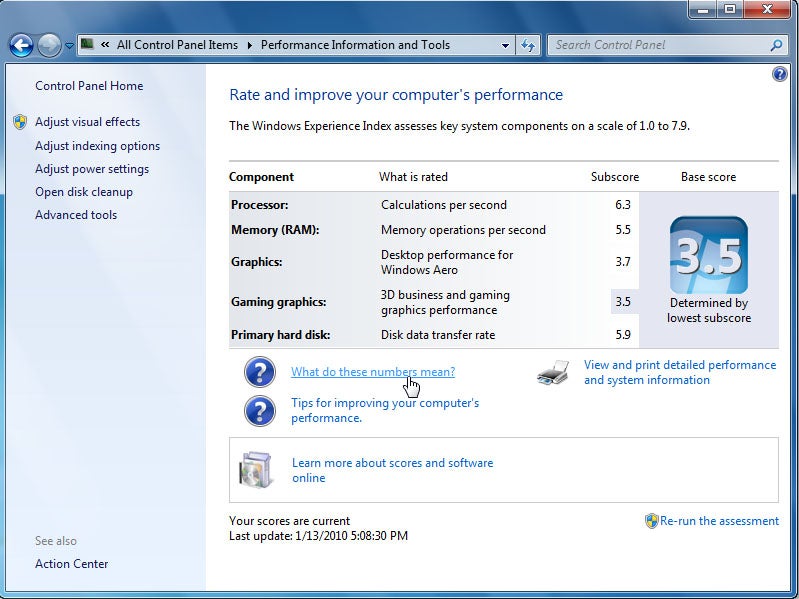 Click Start, right-click Computer, then Properties. You'll find the rating at the top of the System section, the number displayed as a graphic. To make sure the rating is up-to-date, and to see details, click Windows Experience Index.
You can click Re-run the assessment to get a fresh score.
The detailed view rates five performance categories: Processor, Memory (RAM), Graphics, Gaming graphics, and Primary hard disk. The overall score isn't an average of the five, but the lowest. A computer, the theory goes, is only as fast as its slowest component. But in reality, the slowest component might not matter. For instance, a low Gaming graphics score means little if you don't play games.
The highest rating in Windows 7's Index is 7.9. As a general rule, a computer with a 3.0 score will work fine for most purposes, but will struggle with HD video feeds. If you're a serious gamer or video editor, you'll probably want a score of at least 6.0. You can click on What do these numbers mean? for more information.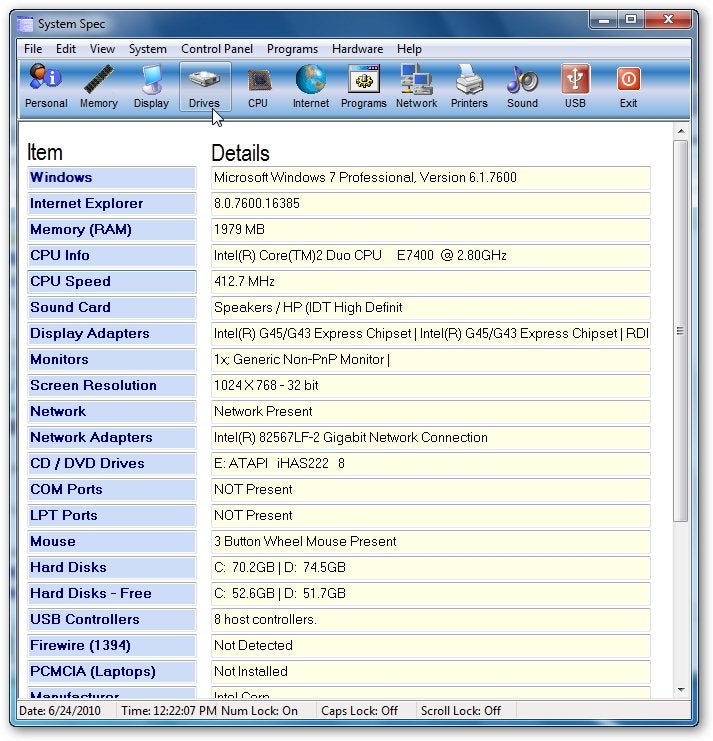 If you want more information than the Index can give you, and you think you can get away with plugging in that flash drive, run System Spec off of it. This free, portable application provides all sorts of useful information about the computer you're running it on, including details on the RAM, display, drives, and CPU. You can export its report to HTML.
Whether you use the Windows Experience Index or System Spec, remember that you're not actually buying the floor model. If you like the specs you see on the floor, make sure you're getting the same specs, or better, in the box.
Add your comments to this article below. If you have other tech questions, email them to me at answer@pcworld.com, or post them to a community of helpful folks on the PCW Answer Line forum.