Just in time for the July 4th holiday weekend Starbucks is now offering free, unlimited Wi-Fi access at nearly 7,000 company-operated locations across the United States. The policy change came into effect Thursday a little over two years after Starbucks began offering two hours of free Wi-Fi to Starbucks card holders. Now, however, the time limits are gone, and you can enjoy unlimited free Wi-Fi at your local Starbucks any time you like for as long as you like.
But before you sink into one of those plush Starbucks chairs with your laptop and a Venti non-fat, no-foam, double shot, extra-hot latte, here are a few tips on what to watch out for and what to look forward to with free Wi-Fi from Starbucks.
Company-Operated Stores
Starbucks is offering free Wi-Fi at all of its company-operated locations, which means most of the Starbucks locations you visit on a daily basis will have free Wi-Fi. The exceptions will be the stores inside special locations such as airports, Target stores and Barnes & Noble locations. Free Wi-Fi access at these locations may vary. Use the Starbucks Store Locator to find the closest shop near you.
How to Get Online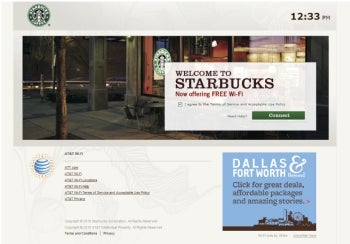 Before you get started, make sure you are connected to the right Wi-Fi hotspot. Typically, Starbucks access points are called attwifi–AT&T is the hotspot provider for Starbucks. If you are unsure which access point to use, ask a Starbucks staff member for help or call AT&T technical support at 1-888-888-7520.
After you're on the right network, all you have to do is fire up your browser and you'll arrive at a landing page similar to the one you see above. Just check the box that says you agree to Starbucks' Terms and Conditions and Acceptable Use Policy, click 'Connect' and you're off and running.
Landing Page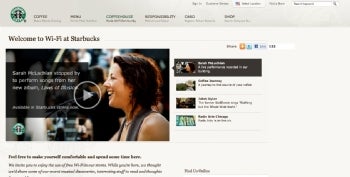 Your first stop once you connect will be Starbucks' free Wi-Fi landing page that includes videos, blogs and other content from Starbucks. At the time of this writing, for example, the site had a video of a live performance by Sarah McLachlan.
Later this year, the landing page will be replaced by the Starbucks Digital Network, which will include a variety of content in cooperation with Yahoo. The company is being pretty vague about exactly what kind of content it will be offering on SDN, but I did find out that through the SDN you will be able to get free, unrestricted access to The Wall Street Journal's Website, WSJ.com. Currently, the Journal hides some of its content behind a paywall.
Starbucks says the SDN will include free, unrestricted access to other paid sites and services in addition to WSJ, as well as exclusive content and previews, free downloads, local community news and activities.
Safety First
So you've found your Starbucks location, you've hit the landing page and now it's time to check your e-mail and maybe fire off a Google Doc or two, right? Wrong. While free, public Wi-Fi is a treat, it's also a great way for a hacker to invade your privacy and it exposes you to identity theft. So before you go anywhere online, let's go over some 'free Wi-Fi' basics:
1. You are not alone: Keep in mind that every laptop and smartphone user around you is probably on the same Wi-Fi network that you are. Anyone armed with the right software can become a master hacker, leaving you vulnerable to e-mail snoops, Web traffic analysis and general file snooping.
2. VPN: A virtual private network (VPN) is the best way to protect yourself when using a public Wi-Fi access point. A VPN encrypts all your Web traffic and blocks any potential snoopers sitting nearby from horning in on your privacy.
Think of a VPN like a super-secure train tunnel that sends all your Web traffic through a secure server and then out to the rest of the Internet. Many corporate types should have private VPN access through their employer, but you can also download HotSpot Shield (Mac and PC) from AnchorFree at no charge. HotSpot Shield is an ad-supported VPN that works very well. The biggest downside to HotSpot Shield is that it places a banner ad at the top of every Web page you visit. You can easily close the ads by looking for the 'X' on the top right corner of the banner. HotSpot Shield may also slow down your surfing speeds, but the added security is worth it.
TIP: Using HotSpot Shield form overseas can often fool regionally restricted premium content sites for music and video. Unfortunately, HotSpot Shield is not smart enough to trick Hulu.
3. SSL E-mail: If you're checking your e-mail on public Wi-Fi, the best thing to do is to make sure your Webmail is encrypted using HTTPS address header instead of the wide open HTTP. While many Webmail sites, like Yahoo Mail and AOL, will use HTTPS to log you in, the encryption quickly disappears once you hit your inbox. So try using Gmail instead, which offers HTTPS security for every single part of Gmail and Google Docs.
If you're a Firefox user, another option is to download the HTTPS Everywhere extension created by the Electronic Frontier Foundation and The Tor Project. The HTTPS Everywhere extension encrypts your online activities when you visit a variety of sites including Twitter, The New York Times, Google search, Wikipedia, Facebook and many others. But HTTPS Everywhere is not foolproof, and the EFF warns that it is not possible to encrypt all traffic. In my tests, for example, visits to Yahoo, Hotmail and other Windows Live sites were not encrypted using the extension. So watch to see if the browser's lock icon in the lower right corner is broken or has an exclamation mark. If it does, you're not encrypted.
4. Common Sense: Don't forget that while you can encrypt some of your Web activities, no security system is perfect. So don't use Starbucks' free Wi-Fi for accessing sites that require your most personal information such as credit card numbers, Social Security numbers or banking information. Save that stuff for your encrypted home network.
Those are the basics; to learn more, check out PCWorld's article How To Stay Safe on Public Wi-Fi and How To Secure Your Wireless Network for more information about home Wi-Fi security.
Starbucks free, unlimited Wi-Fi is a great treat for users, and it will be interesting to see what other kind of free content the SDN will offer later this year. Just remember to stay safe and protect your digital self with a little bit of technical know-how and plain old common sense.
Connect with Ian on Twitter (@ianpaul).