Bilpet, planning a clean upgrade to Windows 7, asked the Answer Line forum how to transfer Outlook 2007 data and settings.
A clean Windows 7 upgrade installation destroys all of your settings, requiring you to manually set up Windows all over again, reinstall all of your programs, and restore your data. It's a lot of work, but it results in a cleaner, more reliable PC. See How to Upgrade to Windows 7 for details.
Because Outlook doesn't store its data in a highly-visible location like My Documents, restoring it after an upgrade isn't an easy no-brainer. (The installation program moves all your existing files to a folder called C:Windows.Old, so you can recover your documents with a simple drag-and-drop.) But most of it is still pretty easy.
The tricky part is moving your email account information, which Outlook stores in the Registry. In fact, if you've already updated to Windows 7 as you read this, your only real option is to recreate the account from scratch. You may have to check with your ISP or mail service for technical details like the POP and SMTP addresses. No one but you can supply the password.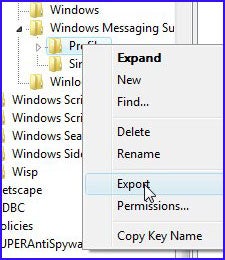 If you're still running Vista or XP, you can export the information from the Registry. Click Start (Start, then Run if you're using XP), type regedit, and press ENTER. Navigate the left pane as if it's Windows Explorer to the folder HKEY_CURRENT_USERSoftwareMicrosoftWindows NTCurrentVersionWindows Messaging SubsystemProfiles. Right-click the Profiles folder in the left pane and select Export. Save the .reg file to a safe place from where you can retrieve it after the upgrade.
After you've upgraded to Windows 7 and reinstalled Office, load Outlook. Tell the Startup wizard that No, you don't want to set up email, but you want to Continue with no e-mail support. Once Outlook is up, close it again.
Importing your email, calendar, contacts, and so on is easy: With Outlook closed, open a Windows Explorer window and select Organize, then Folder and search options. Click the View tab. Select Show hidden files and folders, then click Okay. (You can change this setting back when you're done.)
Open your C:UserslogonAppDataLocalMicrosoftOutlook folder (where the word logon refers to the name you use to log onto the computer). Rename the file Outlook.pst–it doesn't matter to what, this is just a safety precaution. Then open another Windows Explorer window and navigate it to C:Windows.oldUserslogonAppDataLocalMicrosoftOutlook.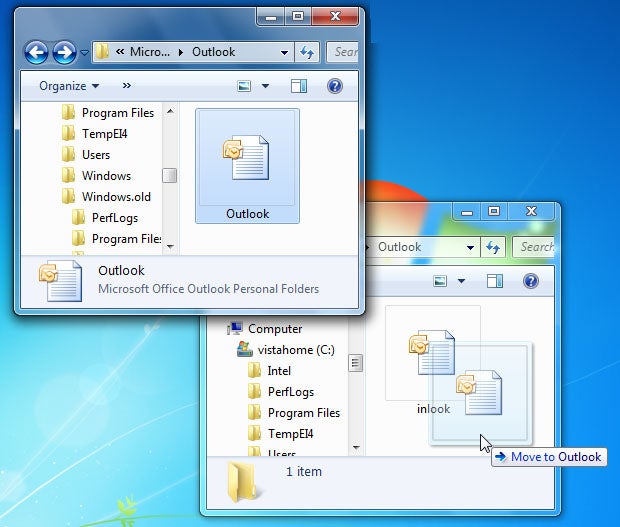 Now drag and drop Outlook.pst from the C:Windows.old… folder to the C:Users one.
When you open Outlook, you'll find all your appointments, contacts, and past email. But you won't be able to send or receive new email because you don't have an account set up. Let's deal with that.
You're about to edit the Registry, so backing it up wouldn't hurt. Click Start, right-click Computer and select Properties. Click the System protection link, then the Create button and follow the prompts.
Now close Outlook. Once it's closed, double-click the .reg file you created in regedit before the upgrade, and confirm (twice) that you really want to do this.
To make sure this restored your account settings, launch Outlook, select Tools, and then Account Settings. In all likelihood, it will be there, although you'll still have to enter the password.
If the account isn't there, click New and create it from scratch.
Read the original forum discussion.
Add your comments to this article below. If you have other tech questions, email them to me at answer@pcworld.com, or post them to a community of helpful folks on the PCW Answer Line forum.