Verizon took out a full-page ad in the New York Times to flaunt its hot new Android smartphone, Motorola's Droid X, and stopped along the way to mock the iPhone 4's notorious antenna problems. The ad took direct aim at Apple, saying consumers can hold the Droid X however they please without obliterating cellular reception. It's clear that Verizon believes it has a winner on its hands with the Droid X and that, despite persistent rumors about the iPhone coming to Verizon, the cellular provider doesn't need to play nice with Apple.
The New York Times advertisement ran on June 30 and listed the Droid X's impressive specs, which rival those of the iPhone 4–a phone that is (unfortunately) still exclusive to AT&T. After the specs, the ad said, "And most importantly, it comes with a double antenna design. The kind that allows you to hold the phone any way you like and use it just about anywhere to make crystal clear calls." Ouch!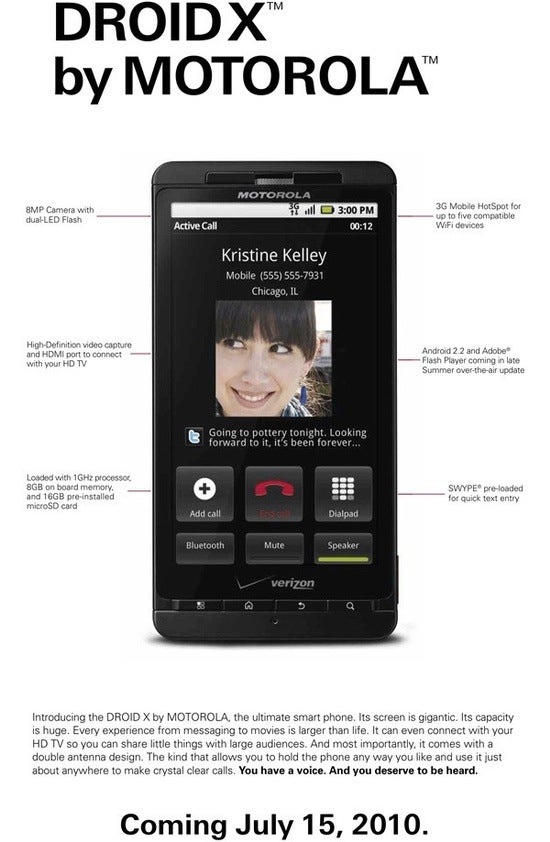 (Image courtesy of Twitter.com/sarahintampa; click on image to see a full-sized version.)
Apple's iPhone 4 antennas–which are built on the phone's exterior; a supposed revolutionary design meant to improve call quality–have been beaten to a pulp by the press. Class action lawsuits have even been filed. Meanwhile, Apple has been in denial, claiming it's not a hardware concern but rather a software issue that falsely displays the number of signal bars. Reports have suggested that a soon-to-be-released iPhone software update, iOS 4.0.1, will fix the crisis.
So what does this mean for Verizon getting the iPhone? Bloomberg reported that the super-popular smartphone will appear on Verizon's network in January 2011 (rumors like these go back years). But if Verizon is taking potshots at the iPhone 4, it seems unlikely to me that the network is holding its breath for a partnership with Apple and would rather focus its loyalties on Android-powered phones.