Sometimes it's good to be a freelancer.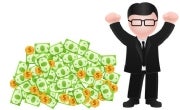 When companies lock horns over new technologies, no matter who ends up on top freelance jobbers will always be the winners, according to a report released today by Freelancer.com, which claims to be the largest outsourcing marketplace in the world. "What we see time and again is that no matter what the hot tech trend of the day is, ultimately it's the online worker that benefits," CEO Matt Barrie said in a statement.
The Freelancer Fast 50 report, which covers quarter-to-quarter increases in job posting for the first half of the year, showed the biggest gains were in areas where tech giants grappled for market share. Topping the Top 50 list were geolocation jobs, which rocketed 909 percent during the period. "Geolocation grabbed the number one spot this quarter as the location wars heated up," the report observed. "While Foursquare and Twitter battled it out, freelance workers reaped the benefits…."
Another nasty conflict that erupted during the period–Adobe and Apple's spat over delivery of video to mobile phones and beyond–was also reflected in the job site's global listings. Apple CEO Steve Jobs' endorsement of HTML5 and refusal to play nice with Adobe Flash fueled demand for the work-in-progress Web standard, the report asserted. "This endorsement gave HTML5 the shot in the arm it needed and lead to a massive 721 percent boost in HTML5 jobs," it maintained.

Job postings were also stoked in other technology areas that reflect hot trends. Anything related to hosting services over the Internet–a/k/a "The Cloud"–saw impressive increases during the period, the report noted. Postings for jobbers with Amazon Web Services skills alone, it said, climbed 446 percent during the period. (Click to view FREELANCER FAST 50 chart )
As the demand for mobile apps continued to rise so did jobs in that arena, according to the report. The 282 percent hike during the period in mobile phone app jobs reflect an insatiable appetite for apps, it contended. "Having an app has become an essential tool for any business and SMEs [Small to Medium Enterprises] are increasingly looking to online labor to get their apps [built] more cost effectively," it added.
"The new global freelance workforce by necessity is incredibly flexible," CEO Barrie declared.
"Any job you can possibly think of can now be outsourced online," he added. "For the first time, small businesses can outsource projects [for] as little as $30, and have delivered roughly the equivalent of $300 of western world [labor]."