At a Glance
Expert's Rating
Pros
Impressive audio performance
Extensive media connectivity
Strong general performance
Our Verdict
HP's latest TouchSmart packs a punch, delivering strong media-theater functionality and the line's signature TouchSmart style.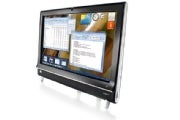 Competition is stiff in the category of big-screen all-in-one PCs. TV tuners and large hard drives are becoming standard features, as manufacturers attempt to displace televisions in dorm rooms and cramped bedrooms with high-definition-capable, multitouch displays. HP's TouchSmart line is an industry mainstay, using itsTouchSmart overlay to produce an array of touch-friendly widgets.
The TouchSmart 600 Quad series ($1800 as of July 1, 2010) sits at the upper end of the TouchSmart spectrum. A 1.6-GHz Core i7-720QM and 6GB of RAM power this 23-inch all-in-one. The i7-720QM–a mobile processor more commonly used in notebooks–supports Intel's hyperthreading and Turbo Boost technologies, while keeping power consumption and heat levels lower than a full-fledged desktop processor would.
The TouchSmart 600 earned a score of 104 on our WorldBench 6 test suite–not a bad score for the all-in-one category, though competing models have posted higher general-performance numbers. The Gateway ZX6900-01e, for example, earned a mark of 113, due in large measure, probably, to its Core i3-530 desktop processor. Apple's 27-inch Core i7 iMac and Core i5 iMac offer superior performance as well, with scores of 128 and 123, respectively, but they lack touchscreens, Blu-ray drives, and some of the advanced interface connections we've come to expect, such as eSATA, HDMI, and composite inputs).
Gaming performance on the TouchSmart 600 is less than stellar: The machine comes equipped with a discrete nVidia GeForce GT230 graphics card, and eked out a frame rate of 39 frames per second on our Unreal Tournament 3 benchmark (at 1680 by 1050 resolution, and high settings). In contrast, the ZX6900-01e failed to produce playable frame rates, while both iMacs delivered 72 fps at a higher resolution.
Of course, when you're considering an all-in-one, more things factor into the puzzle than just raw performance. Like the Sony VAIO L117FX/B, the TouchSmart offers a bevy of multimedia features to complement a large, lush multitouch display. The 1920-by-1080-pixel native resolution is just right for 1080p high-definition content, befitting the slot-loading Blu-ray/DVD-RW drive.
Volume and display controls reside on the right side of the machine, alongside a multiformat card reader and the Blu-ray drive. On the left, you'll find the headphone and line-in jacks, a pair of USB ports, and a button for toggling the amount of ambient light that bathes the base of the TouchSmart 600 in a color of your choosing. The machine also offers a Webcam, whose angle you can adjust manually; though its quality isn't great, the Webcam is suitable for YouTube and the like.
A peek at the rear of the unit reveals three more USB ports, and a gigabit ethernet port, which complements the 802.11n wireless and Bluetooth connections. For media mavens, the Touchsmart 600 offers an S-Video input, an S/PDIF output, and HDMI and composite inputs to accommodate various game consoles. You'll also find an infrared-out port for remote controls. HP has also integrated Beats Audio, the high-definition audio processing technology that powers Dr. Dre's signature headphone line.
The TouchSmart 600's stereo speakers offer impressive audio fidelity, filling a room with sound without sacrificing much in the way of quality. Bass is alive and well here, but it doesn't overwhelm the experience. Beats' audio processing thrives, whether on a set of nice headphones or on a full-fledged speaker system, and the on-board audio serves just nicely.
The functionality of HP's custom TouchSmart software hasn't changed since its previous incarnation on the HP TouchSmart 300. The menus are noticeably snappier, but navigating them requires undue amounts of dragging. Still, the software among the best in its class for touch experiences on Windows 7 PCs.
The bundled wireless mouse and keyboard are serviceable. (A dongle is hidden away in a sixth USB port, on the underside of the machine.) An untethered, media-centric all-in-one is always a plus, though the included peripherals aren't very exciting. The spacious keyboard is conducive to error-free typing and offers industry-standard media shortcuts. The mouse is simple (two buttons and a scrollwheel) but comfortable to use.
As is generally the case with all-in-ones, you'll pay more for the TouchSmart 600 than you would for a less compact machine. If you still aren't sold on Windows 7's touch-functionality, check our Mainstream PC and Performance PC categories, for models that offer superior performance for less money. But then you'll have to find your own display. Where all-in-ones are concerned Sony's VAIO L117FX/B still rules the roost, with its stunning chassis and Blu-ray burner. But the TouchSmart 600 Quad is a very serious contender, offering an equally impressive load-out, excellent audio, and TouchSmart software that supports a pleasant interactive experience.