At a Glance
Expert's Rating
Pros
Attractive chassis
Strong performance
Cons
Lacks a touchscreen
Finicky wireless keyboard connectivity
Our Verdict
There's no touchscreen, but Lenovo's IdeaCenre B500 offers a striking design, great performance and an integrated TV tuner.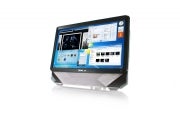 Lenovo generally means business. The company's ThinkPad laptop line (introduced by IBM in 1992) is an industry standard, outfitting countless road warriors with characteristically somber black boxes. But the IdeaCentre B500 ($1400, as configured) is anything but plain.
The 23-inch B500 we reviewed is equipped with a 2.66GHz Core 2 Quad processor and 4GB of DDR3 memory. It offers 1TB of storage space–a generous amount, but increasingly common in the category of big-screen all-in-one PCs. The B500 earned a WorldBench 6 score of 108, a fairly high mark for the category though not in comparison to Apple's Core i5 iMac and Core i7 iMac. The B500's graphics performance was impressive, too, with a frame rate of 73 frames per second on our Unreal Tournament 3 benchmark (at 1680 by 1050 resolution, and highest quality settings). The iMacs performed similarly, though their 27-inch screens operate at a higher native resolution.
This ThinkPad's 1920-by-1080-pixel screen is bright and offers strong color reproduction, but it lacks a touchscreen, someans you can't take advantage of Windows 7's multitouch gesture capabilities.Competing models that do let you poke and prod, like the $1800 HP TouchSmart 600 Quad, cost several hundred dollars more. High-definition content on the B500 shines, complementing the included Blu-ray/DVD-RW drive.
The B500's attractive, angular chassis has a black, chrome, and orange motif that extends to the unit's wireless mouse and keyboard. The power button and Blu-ray drive occupy the right side of the unit. The left side accommodates a pair of USB ports, headphone and microphone jacks, and a multiformat card reader.
The rear end of the B500 is equally striking, with a bright, almost neon-orange grille accenting the chrome backplate. Connection options here are limited to PS/2 connectors for a mouse and keyboard, a gigabit ethernet port, four USB ports (bringing the total to six), and a coaxial connector for a TV tuner. The lack of eSATA or FireWire ports is a weak point; competing all-in-ones such as the aforementioned HP TouchSmart 600 Quad and the Sony VAIO L117FX/B also offer composite and HDMI inputs for connecting videogame consoles and the like.
Integrated Bluetooth and 802.11n Wi-Fi are welcome additions, reducing cable clutter to a minimum. The keyboard and mouse offer dongle-free connectivity, though the keyboard proved to be a bit finicky at times. Barring connection issues, it's a joy to type on, in the proud Lenovo tradition. The keys are fairly quiet but click comfortably. On the downside, the keyboard lacks dedicated media shortcut keys, relying instead on a Function key. The bundledwireless mouse offers no additional buttons or functionality, but it is attractively color-coordinated and comfortable to wield.
The scant amount of bundled software is a blessing or a curse, depending on your definition of bloatware. One highlight is the Lenovo Vantage Technology suite (a handy shortcut button to the suite sits on the keyboard). It works much like the vaunted ThinkVantage suite found on Lenovo's business laptops, offering instant driver maintenance and system recovery. Windows 7 supports that functionality natively, but Lenovo's front-end streamlines the process.
If you aren't sold on prodding your media, Lenovo's IdeaCentre B500 offers a great platform for high-definition flicks and a spot of gaming–and it will look great on your desk, if you're partial to its Transformers-esque aesthetic.