At a Glance
Expert's Rating
Pros
Stunning chassis
HDMI inputs and TV tuner
Our Verdict
Lenovo's IdeaCentre A300 offers a wealth of connection options in a stunning shell.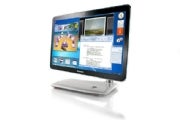 With a 21.5-inch screen, the IdeaCentre A300 sits at the lower end of the size scale in the big-screen all-in-one PCs category. It is by no means a workhorse; instead, Lenovo designed it to stream Web-friendly high-definition media while looking pretty in a corner of your den.
The unit we tested (priced at $900 as of July 1, 2010) came configured with a 2.2GHz Core 2 Duo processor, 4GB of DDR3 RAM, and 500GB of storage. It rambled to a mark of 85 on our WorldBench 6 test suite. That score isn't terrible, but it's the lowest in the A300's category. By way of comparison, the HP All-in-One 200 costs a bit less and earned a WorldBench 6 score of 104.
The A300's graphics performance is middling, a result of its reliance on Intel integrated graphics. The all-in-one failed to eke out playable frame rates on our gaming benchmarks at any resolution. High-def content fared much better: We got through our media-viewing tests without encountering dropped frames.
In the looks department, the A300 is stunning. The swiveling display sits on a base that's scarcely 0.5 inch thick, giving the machine a box-free profile. You don't get a wide variety of ports, but the offerings are substantial. On the left are a pair of USB ports, headphone and microphone jacks, and a multiformat card reader. The rear offers another pair of USB ports (bringing the total to four), a four-pin FireWire connector, gigabit ethernet, HDMI input and output ports, and a connector for the A300's power brick. HP's rival All-in-One 200 offers a total of seven USB ports but lacks HDMI. Neither machine comes with advanced connections such as eSata.
The A300's display is bright and crisp, and it swivels and tilts readily on its base. It has a native 1080p resolution, and the built-in 802.11n Wi-Fi connectivity will be invaluable for streaming high-definition media. You'll have to rely on Wi-Fi and the unit's gigabit ethernet cable to deliver your high-def content, since the A300 lacks an optical drive (HP's 200 comes with a DVD burner). This omission might not be much of a limitation: With so much HD content available on Hulu, Netflix, YouTube, and the like, you might not even miss being able to play DVDs. And with the HDMI input, you can always use the unit as a display for a proper media center. On the other hand, if you do want the A300 to work as a full-fledged media unit, you'll have to dedicate one of its USB ports to connecting an external optical drive.
The bundled mouse and keyboard are plain but effective. Both take advantage of the A300's built-in Bluetooth functionality, which leaves the USB ports free for use with peripherals. Connectivity was strong, supporting decent range without missing a beat. The pill-shaped mouse may be a bit small for users with large hands, but it's comfortable. Though the keyboard is a pleasure to type on, it lacks dedicated media shortcut keys, so you'll have to hold down the Function key to sift through your music or movies,or adjust the audio volume.
Like the one on the larger Lenovo IdeaCentre B500, the keyboard on the A300 offers a dedicated shortcut to Lenovo's Vantage Technology suite, a software package similar to the ThinkVantage suite found on Lenovo's business laptops, with a front end that promises to simplify system maintenance.
Substance mat take a backseat to style on the A300, but this machine is no slouch–for the right user. If you have a large Blu-ray or DVD collection or want to run a full-fledged media center, you should look a bit higher up the food chain. Models such as the Gateway ZX6900-01e and the HP TouchSmart 600 Quad offer larger screens, Blu-ray drives, and multitouch functionality, though they cost almost twice as much as the A300.
HP's All-in-One 200 is a strong competitor in the similar price bracket, but the IdeaCentre A300 is both capable and attractive. If you don't need a workhorse, and you want a stylish, wireless machine to fit into a tight space, add Lenovo's A300 to your short list.