The Macro Scheduler Standard techie tool ($95, 30-day free trial) allows for creating a wide variety of macros that can automate most any Windows task, from opening particular programs to extracting Excel data to requesting specific HTTP data. Macros can be scheduled to run at a particular time, or can be set to run in response to a specific event such as opening or closing a certain window.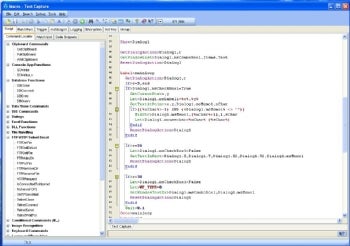 While Macro Scheduler Standard includes extensive documentation and a nice beginner's tutorial, it's clearly a tool for IT types and other advanced users. Its built-in scripting language is relatively simple, but to construct a new macro you'll still need to be comfortable with things like variable substitution and other scripting basics.
If that's you, and if you have to perform many repetitive Windows tasks for your job, Macro Scheduler could be a real boon. A wide variety of pre-made macros for handling clipboard extraction, program startups, text manipulation and a host of other functions provide a starting point for creating your own scripts, and a smooth script editor eases the subsequent work.
Macro Scheduler can also record your keystrokes and mouse moves, and convert them to a macro. But properly using mouse actions in a recorded or manually created macro can be a bit tricky, as they require that windows always be in the exact same location, for instance. If the features sound useful to you, though, Macro Scheduler Standard is well worth the download.
Note: Macro Scheduler Standard for business use costs $95. Additional Lite, Professional and Enterprise versions with different feature sets and prices are also available, as are editions priced for home use.