At a Glance
Expert's Rating
Pros
Optical hard drive built-in
Always-on, powered USB ports for charging
Optional hard drive
Our Verdict
An affordable docking station for your netbook with an optical drive, optional hard drive, and powered USB ports.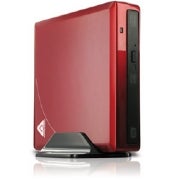 The packaging for the Apricorn Aegis NetDock docking station ($89, as of 7/6/2010) only implies that there's an optical drive on board. But don't be fooled: Not only is there one–an 8X TEAC DV-W28S-V DVD burner in this case–but four USB 2.0 ports as well. Two of these ports remain powered even when the unit isn't attached to a computer, so you can charge cell phones and other mobile devices with them. It's this versatility that helps make the NetDock a useful add-on for laptop and netbook users who may find themselves without such amenities.
Our test unit also came with a 500GB hard drive inside (a $189 option, as of 7/6/2010). Save a few dollars–or choose your own capacity–by buying the optical-only unit and adding a 2.5-inch drive yourself later. Installing such a drive is fairly simple: The NetDock comes apart with the removal of single screw. Slide the drive into the SATA connector, secure it there with two screws, reassemble, and you're good to go.
I took the NetDock for a test spin with several laptops, including an Asus Aspire One netbook, and its presence indeed made life quite a bit easier. A hard drive inside makes backing up a laptop simple, the optical drive is great for installing software, and the USB ports allow you to quickly add a printer, a scanner (I used both), or more storage to the mix. Every computer I tried it on, which included Windows XP SP2, Vista, and Windows 7 units, recognized the NetDock immediately, and drivers all installed automatically.
What I also realized after about five minutes of use is that the NetDock can be an exceedingly handy IT tool. Instead of dragging around separate optical and hard drives, I can carry around the NetDock; plus, I can recharge my cell phone without having to hunt for a free AC outlet in a power-cable maze. Sweet.
The NetDock ships with, and requires an AC adapter. You simply can't run a hard drive and an optical drive, as well as provide enough power to the USB ports, without one. Apricorn bundles some freebie software to take care of all the tasks I mentioned: Microsoft's SyncToy for syncing and backup, BurnAware Free for disc-related chores, and VLC for playing movies and music. Be careful not to click mindlessly through the installations, though: The BurnAware software in the package wants to install the Ask toolbar.
The Apricorn Aegis NetDock is a good complement for your netbook at home, as well as a handy portable storage device. My only (exceedingly minor) complaint is that it doesn't have USB 3.0 connections.