A Silicon Valley product development consulting firm called the Nielsen Norman Group (not to be confused with the Nielsen ratings company) published a study last week comparing reading performance with a book to reading with an e-reader. The results–which are suspect because there were only 24 people in the test group–find that users of the Kindle 2 and iPad read 10.7 percent and 6.2 percent slower, respectively, than on paper or with books.
There are too many missing factors to take this study seriously. For example, this group was composed of all "avid" readers, given short stories by Ernest Hemingway to read on four platforms; the Kindle 2, an iPad, a PC monitor, and paper. First, Hemingway is not an easy read, and subject matter is all-important when measuring speed and comprehension. Avid readers are more likely to read anything faster than average or minimalist readers.
And, there are a number of other factors to consider, such as time of day, environment, the physical condition of participants, and whether reading is for entertainment or business. Sorry, but it will take a lot more than one simplistic study of 24 readers to convince me that such findings are accurate.
Even if the study's findings were spot-on, it's not just reading speed that counts. E-readers still offer many advantages over paper books, especially for businesses
I prefer paperback or hardback books for pleasure reading but, for research, I prefer a device with access to the Internet. And, this is the case with my friends and colleagues, who add up to more than 10 times the number of participants in this study. However, since I work on a computer all the time, I will concede easily that an e-reader is preferable to a computer screen, especially one designed to mimic an actual book.
As a business investment, how will an e-reader such as the Kindle or a tablet such as the iPad benefit your company? There are several varieties of each available on the market. However, the only distinction I want to make is between e-readers and tablets; one was designed specifically for reading books and other printed materials, while the other was designed to function as a tiny computer, which includes e-reading capabilities. Eventually, the two designs will merge into one device, each with its own set of unique features.
Laptops, notebooks, netbooks, and smartphones all provide screens of readable data. Why would your staff need an electronic reader? These are five great reasons.
1. Size Matters
First, for employees who are required to read and absorb a lot of information, such as scientists, teachers, and medical personnel, laptops, notebooks, and netbooks are too heavy and large, and smartphones are just too small. The purpose of an e-reader or a tablet is to function as a book; smaller, thinner, lightweight–no bigger than a standard paperback–plus comfortable and easy to read.
Anyone who is forced to read huge amounts of data for the job cannot be weighted down with a bulky machine; nor can they haul around several 800-page books. When I was an adjunct professor traveling to teaching locations all over a city, I remember the agony of hauling six to 10 huge books, workbooks, and reference materials in my backpack to class. Add a laptop for presentations, a phone, and a briefcase to that, and I looked like I was waiting for a moving van. I would have eagerly traded it all for one tablet PC or e-reader.
2. Affordability
Second, the physical cost of these devices is decreasing, and the purchase price for e-books is, on average, just $10 each. Access to the Internet costs more, but compare these fees with just one paper programming manual, engineering reference guide, or college textbook; the cost is absorbed in fewer than four books. The added benefit is with your own company's industry-specific publications. Scientists, engineers, programmers, and systems analysts are not reading downloaded books for work from Amazon.
These professionals are reading their own company's technical documents, which can be uploaded to any tablet or e-reader. Remember, not everyone out there has an office or a cubicle with a cushy chair, a nice desk, and a laptop parked in a docking station. That said, be sure to choose a rugged, sturdy device that will withstand environmental conditions. Also, notice the device's screen and how the text displays in sunlight, partial shade, and darkness. For example, an iPad or other tablet may be harder to read in the sun than a tablet such as the Kindle, with its special e-ink.
3.Document Distribution
Third, these devices will change the way companies distribute physical sales and training documents such as books, manuals, and reference materials outside corporate walls. Even at the current prices, the e-readers–not the tablets, yet–are almost cheaper than providing paper literature.
For example, last year, I worked a technical writing contract job. We created and printed–in-house–four training manuals for employees of the company's clients. The total cost of the paper books–the paper, ink, binders, dividers, and covers, plus staff time to print, assemble, and distribute–was just under $300. Amazon's 6-inch, diagonal Kindle is only $189, and these prices are still coming down, not to mention the negotiating power of volume discounts.
Imagine the time, money, and effort saved by pre-loading training materials for your customers to an e-reader. Since they do not work for your company, they can't otherwise access such information through your intranet. Besides, if they can't take the manuals and read them on the go, it's likely they won't ever read them at all. Offering manuals on a portable device could spare you the support calls and e-mails to your help desk from customers looking for answers to what's already in the manuals.
4. Updates
Another benefit and big cost-saving feature is in updates. When it's time to update those materials, you just upload the new files to your Web site, then send alerts to customers informing them that they can download the new manuals directly to their e-readers and tablets. It's the ease and convenience of a computer disguised as a book. Because, truthfully, who wants to sit at a computer and read hundreds of pages?
5. Fun Matters, Too
And last, there's the added benefit of reading for fun, or even research. There are over 620,000 books, plus U.S. and international newspapers, magazines, and blogs available through Amazon; over a million books at Barnes & Noble, plus 20 newspapers and 13 magazines; with more offerings from publishers and retailers coming every day.
The real benefits of e-readers and tablet PCs are cost, convenience, a huge library–including out-of-print books and lots of free public domain books–easy distribution of your company's data, and the incentive for everyone to read more. I love my e-reader and I would not give it up for any reason; however, I do still have a huge library of printed books that I won't get rid of either. But, I can't take them all with me when I travel.
The e-readers and tablets can hold as many books as the memory allows; for example, the 6-inch Kindle with 2GB of memory holds approximately 1500 books, the 9-inch Kindle DX with 4GB of memory holds 3500 books, and the iPad, with up to 64GB of memory, can hold about 48,000 books–if you don't load it down with music and photos. Any of these devices can be worth the investment.
In the meantime, be sure to research specific features for your employees' needs, such as any monthly fees added for access to the Internet, 3G networks, e-mail, attachments, music resources, and so forth. After you factor in those fees, then compare features and device costs before you purchase.
iPad (2010)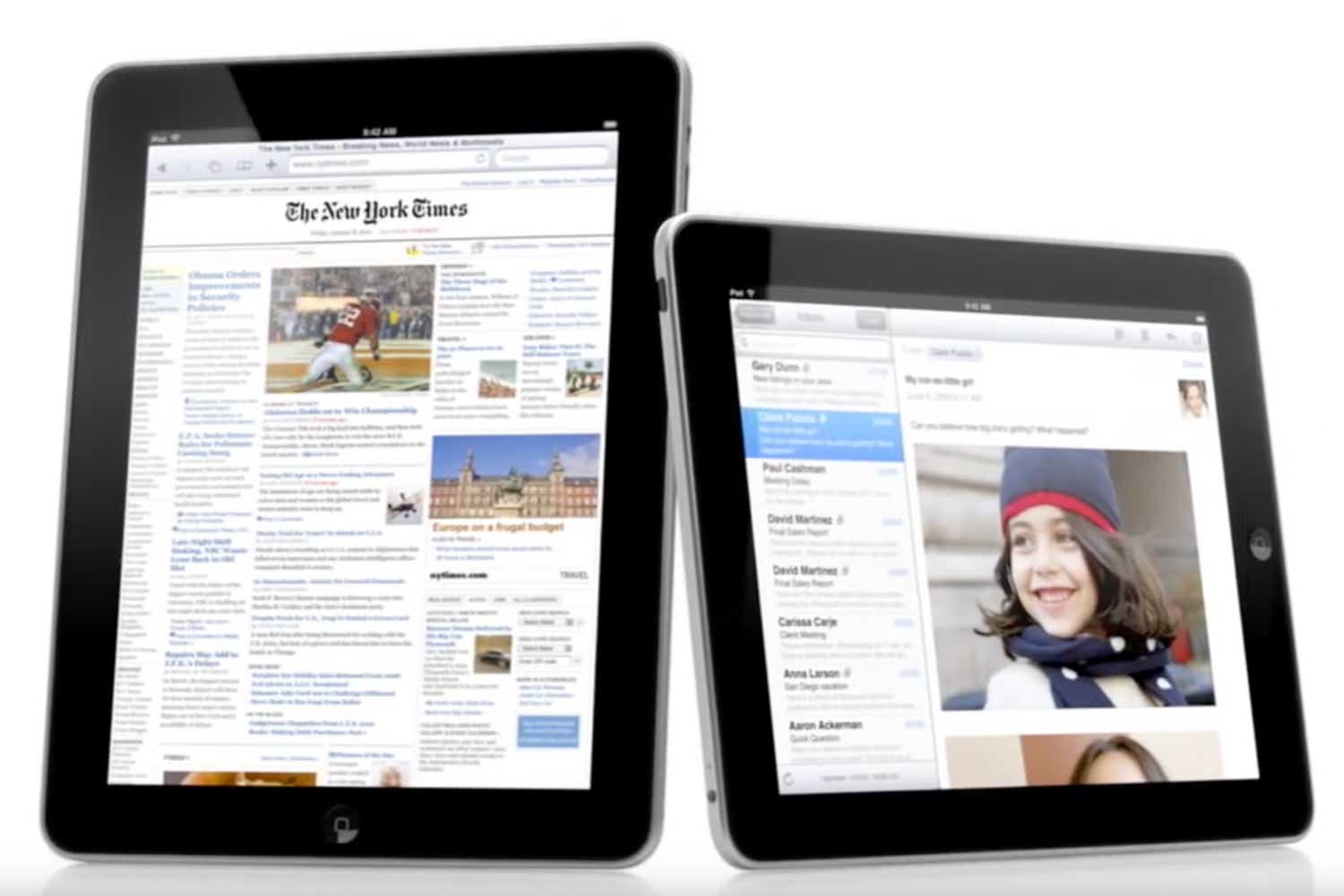 Read our full
iPad (2010) review