Mobile computing has long been dominated by laptop computers, but powerful new smartphones such as the various Android phones–including the new Motorola Droid X–are rapidly becoming the portable computing devices of choice.
This shift, of course, is primarily due to the immense number of apps written for both types of phones.
However, a lot of tasks, such as word processing and Web browsing, are still more easily accomplished using the larger keyboard and monitor of a traditional laptop or PC. Consequently, most mobile professionals continue to lug around a bulky laptop in addition to their smartphone.
Wouldn't it be great if you could ditch your laptop, carry just your smartphone, and still be able to work in a Windows PC (or OS X or Linux) environment when you need to? You can do that, with the help of portable apps. In contrast to phone apps–which are designed to run on the handset itself, using the phone's hardware and operating system–portable apps run on a host computer, using the computer's RAM and display, but they save all their data and settings to your portable drive (or your phone's internal memory).
Here's how to take advantage of portable apps.
USB Drive Mode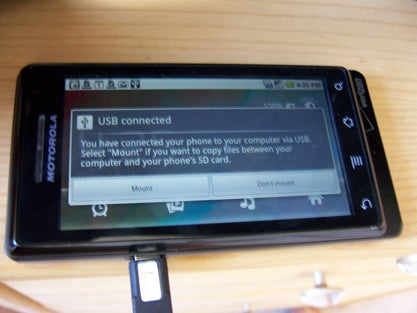 All you need is your smartphone, the USB sync cable that works with it, and the right selection of portable apps, as well as access to a desktop or laptop PC–even if it's just as a guest.
First, plug your phone into the computer using the phone's sync cable. Next, select USB Drive mode. This process should work with all operating systems, most smartphones, and most other type of phone that use a sync cable. If your phone doesn't use a sync cable, you're out of luck.
(Note: Due to limitations in the iPhone OS, the iPHone does not natively support Drive Mode. Therefore, it is unsuitable for computing with portable apps. Custom software modification, known as "jailbreaking," may unlock this ability, but also will void your iPhone's warranty.)
[Story corrected on 7/19/10 to reflect the iPhone's inability to support Drive Mode without jailbreaking.]
Once the handset is in USB Drive mode, you can use the PC's file explorer–or the Finder on a Mac–to browse your phone's internal memory as if it were a flash drive. Now, you can install portable desktop apps and run them from your phone, saving all your settings and data to your phone's internal storage.
Finding Windows XP/Vista/7 Portable Apps
PortableApps.com hosts dozens of apps that have been "portabilized" so that they store all of their temporary files, cache files, and history on a portable drive (or phone). Software categories available on the site include office software, games, Internet apps, security tools, utilities, and multimedia programs.
For example, you can run the Portable Edition of the Mozilla Firefox browser from your phone, saving all your bookmarks, preferences, and add-ons directly to your phone's internal storage. It leaves no data behind on the host PC, and you don't have to install anything on the computer.
If you'd like to work as if you were at your desk, try OpenOffice.org Portable. Another useful app is the portable, cross-browser RoboForm2Go, a password manager that is secure and encrypted.
For another good source of useful portable apps, check out the Portable Freeware Collection.
Installing Windows XP/Vista/7 Portable Apps
Installing portable apps in Windows is a fairly straightforward process, similar to installing "normal" programs. The main difference is that with portable apps you need to specify the location where you want to install the app–namely, your smartphone's internal storage.
Depending on your individual computer configuration, you should see your phone show up as a drive letter (such as E:), and you may see some folders or files that your phone has already placed on the "drive."
If you have never installed portable apps before, going with PortableApps.com is probably the easiest way to start. You can choose to download and install the Platform utility, an app launcher similar to the Start menu that makes it easy to install and access your choice of portable apps, documents, and other files.
Or you can try the bundled PortableApps Suite, which includes portable versions of the Firefox Web browser, Thunderbird e-mail client, Sunbird calendar/task app, ClamWin antivirus scanner, Pidgin instant messaging client, Sumatra PDF reader, KeePass password manager, CoolPlayer audio player, PNotes sticky-note tool, and OpenOffice.org office suite (a decent cross-platform alternative to Microsoft Office). It even has a couple of games.
Keep in mind, however, that the Suite is a 137MB download and that it unpacks to 400MB when installed. The installation process is simple (you just download the installer, run it, and specify your phone's drive letter), but the package may be overkill for your needs. Personally, I use only the Platform app with Firefox Portable, Chrome Portable, Pidgin Portable, and Notepad ++.
To selectively install only the portable apps that you want, download the PortableApps.com Platform installer and your selected apps from the PortableApps.com Directory.
Run the installer, specify your phone as the location (making sure it's in Drive Mode first), and check the Run box; the Menu program should launch when the installation is finished. You should also see the PortableApps.com icon in your system tray; think of that as the Start menu for your portable apps. If it isn't running, you can open it by clicking the program shortcut on your phone/drive in Windows Explorer.
To add more portable apps, click Options in the Menu and select Install a New App. Navigate to the folder where you downloaded the app, select it, and click OK. The installer will automatically put the app in the proper folder and add a shortcut to your PortableApps Menu. Alternatively, you can run the individual app's installer file–the result will be the same.
Next: Portable Apps for Mac and Linux
Finding Mac OS X Portable Apps
Mac users can choose from many portable apps, too, including the Firefox Web browser, Adium instant messaging client, and Thunderbird e-mail client.
FreeSMUG (Free OpenSource Software Mac User Group) has a goodly selection of Mac-ready portable apps. You can also find lots of apps on the SourceForge OS X Portable Applications page.
Installing Mac OS X Portable Apps
Installing portable apps for OS X is a different process than for Windows, but still very simple.
The app will download in a single archive file called a "disc image." Once the image has downloaded, click it to open it. Open the Finder, navigate to your phone/drive, and then drag the portable app's folder from the disc image to your phone/drive. (Or, if you prefer, drag it to a folder on the phone/drive; I have a folder named 'OSX-Apps' to keep my Mac apps organized and separate from my Windows apps.) Once the portable app folder is on the drive, you can eject the disk image if you wish to get rid of it.
To run the portable app, open the Finder, navigate to the app folder, and click the app shortcut. It will drop into your Dock, and you can then run it as you would any other program.
Finding Linux Portable Apps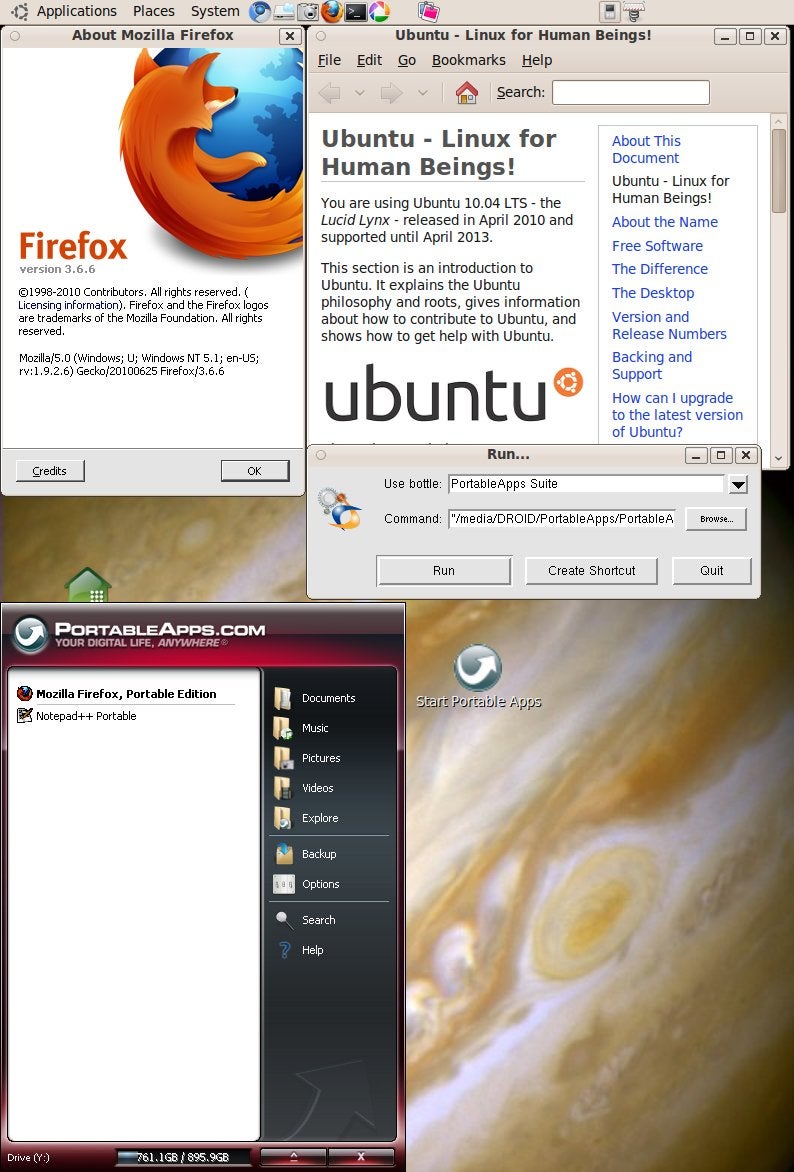 Linux enthusiasts who are smartphone users can get in on the portable-app action, as well.
Pendrivelinux is the go-to site for step-by-step tutorials that provide a multitude of portable options for many of the most popular distributions, including Ubuntu and PCLinuxOS.
Running a full-blown Linux OS like Ubuntu from your smartphone is probably the most powerful and customizable way to run portable desktop apps. You can access hundreds of software packages through the Synaptic package manager. Additionally, using portable apps allows you to create a system rescue option for disaster recovery.
On top of that, you can also run many Windows-based portable apps on Linux machines that have Wine (a Linux program that simulates a Windows environment) or Crossover (the for-pay, professionally supported version of Wine) installed. Your mileage may vary, but I have had success running PortableApps.com's Firefox Portable Edition in Wine on Ubuntu 10.04.
You may also enjoy:
* Put a Browser in Your Pocket
* Backing Up Files Is Smart, but What About Apps?
* Toucan Portable App Fits Backup and Sync Into a Small Package