Mozilla recently released the first beta version of Firefox 4, the next iteration of the world's second-most-popular browser (after Internet Explorer). The new Firefox offers the usual under-the-hood tweaks you'd expect, such as improved security and better page rendering, and it also supports WebM, Google's new open video standard project. But more importantly to the average user, Firefox 4 offers a refreshed layout and appearance. Here's a look at some of the highlights.
New Menu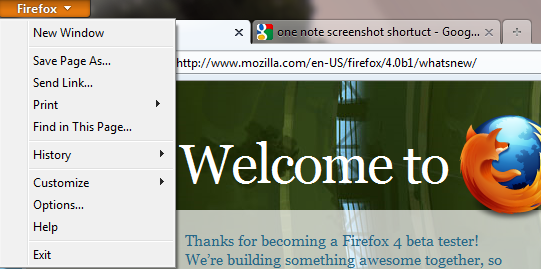 If you're a Windows Vista or Windows 7 user, one of the first things you're likely to notice is that the menus have moved to a single orange Firefox button on the upper-left side. (Mac OS X, Linux, and Windows XP users will continue to see the regular menu layout across the top of the screen.)
Mozilla has also merged the stop and reload functions into one button on the far left. Users of any operating system will see this new feature.
Tabs on Top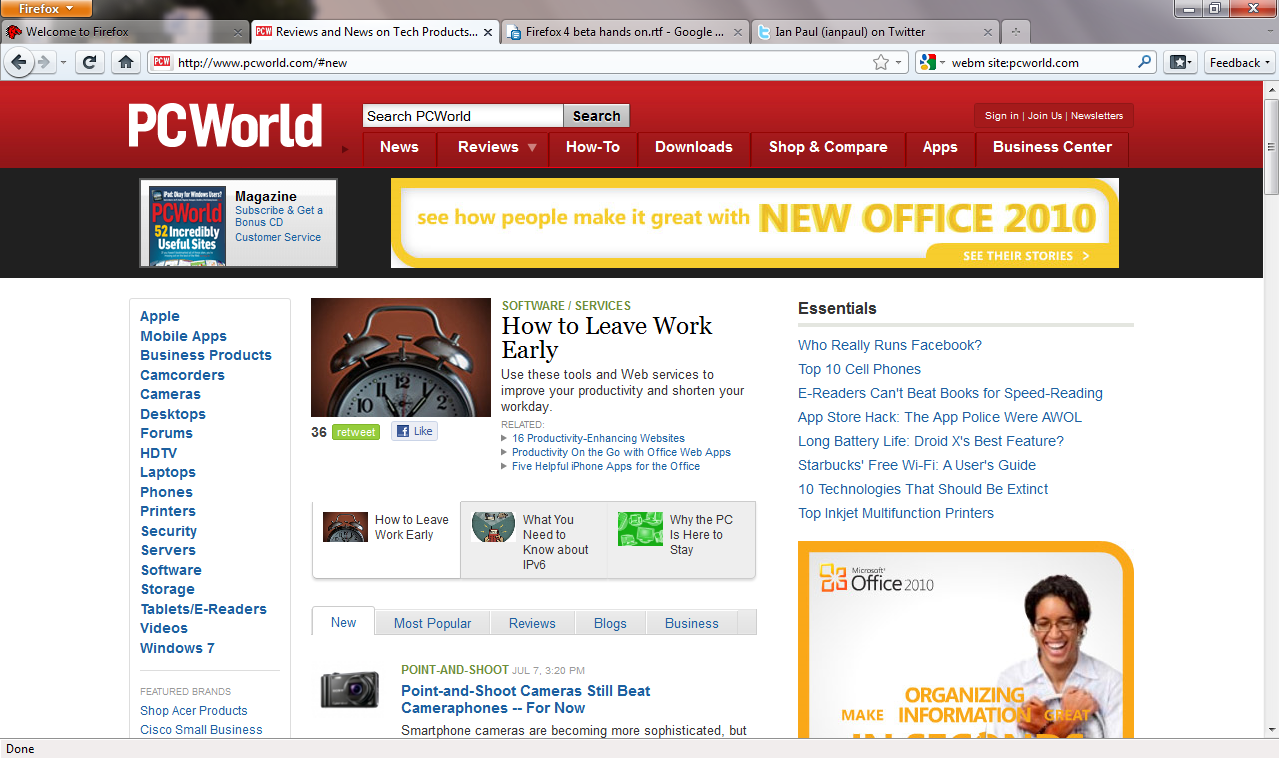 Taking a cue from Google Chrome, Firefox 4 beta now has the browser tabs pointing upward by default instead of hanging down from the top of the window. This is a great addition to Firefox, as it helps to maximize screen real estate for the Web page you're viewing. Mozilla says that this feature is available only for the Windows beta right now, but that it will be rolled out to the Mac and Linux versions in the future.

If tabs on top are not your thing, you can switch back to the more traditional Firefox tab layout by right-clicking the toolbar and deselecting the Tabs on top option. In Windows Vista and Windows 7, you can also go to the Firefox button on the upper-left side and select Customize, Tabs On Top.
Bookmarks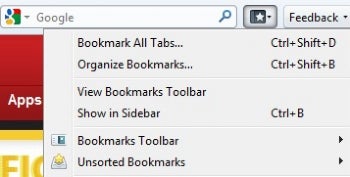 The bookmarks menu has moved to a new bookmarks button on the upper right.
Though the bookmarks layout has changed, the functionality is the same: To access your bookmarks, just click the star and select an item from the drop-down menu.
Switch Tabs in the Awesome Bar

If you like to keep numerous tabs open at a time, Firefox now lets you search for the tab you want right from the Awesome Bar. This is a great alternative to cycling through all your tabs with keyboard shortcuts or your mouse.
To access the switch-tabs function, just place your cursor in the Awesome Bar (that's the URL entry field for you Firefox newbies) and start typing name of the site or page you want to access. The Awesome Bar will start showing you a few options for past and current sites. One of the top options should be the tab you're looking for, and will be marked as 'Switch to tab' (see the screenshot). Just select that option and press Enter, and Firefox will switch to the tab for you.
Privacy, Crash Protection, and HTML 5
In addition to the obvious new user features, Firefox 4 beta 1 also has a few added features under the hood. For starters, Mozilla has introduced crash protection for your Flash, QuickTime, and Silverlight plug-ins; this means that if the Flash Player crashes in one tab, for instance, it won't take the entire browser down with it.
Firefox 4 beta is also getting more HTML 5 capability, including the ability to display CSS Transitions, such as a Web page background that gradually shifts from white to black.
Mozilla has bumped up the privacy protection, as well, by closing a loophole that could allow a malicious script to sort through your browser history, exposing you to identity theft.
Overall, Firefox 4's new look and added features seem promising, and it will be interesting to see what other features Mozilla adds to future beta releases of Firefox 4.
If you're thinking about trying out Firefox 4 beta 1, you can find it here. But keep in mind that Firefox 4 is a work in progress, and you may have to endure a few unexpected bugs and crashes. If you'd rather not deal with the headache, you might want to wait for the official launch of Firefox 4, which is scheduled for later this year.
Connect with Ian on Twitter (@ianpaul).
When you purchase through links in our articles, we may earn a small commission. This doesn't affect our editorial independence.