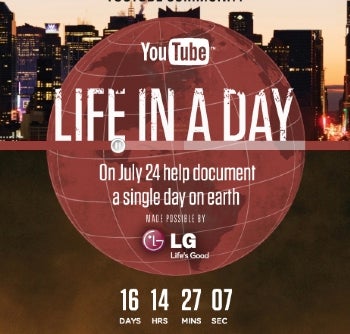 YouTube is partnering with two Oscar-winning directors — and you — to create a feature-length documentary about ordinary lives over the course of one day. "Life in a Day" aims to capture July 24, 2010 from millions of different perspectives all across the globe.
"Every day, 6.7 billion people view the world through their own unique lens. Imagine if there was a way to collect all of these perspectives, to aggregate and mold them into the cohesive story of a single day on earth," the YouTube blog said.
On July 24, you have 24 hours to film a snippet of your life, from the ordinary to the extraordinary. Then you upload your video to the YouTube "Life in a Day" channel before July 31. The most compelling footage will then be selected, edited, and incorporated into a film directed by Kevin Macdonald (The Last King of Scotland) and produced by Ridley Scott (Gladiator).
"Life in a Day" will premiere at the 2011 Sundance Film Festival in January. Winners won't be paid but will be credited as co-directors, and 20 participants will be selected to attend the first showing. The documentary will also be made available on YouTube for free.
Here are the rules:
According to the guidelines, there is "no right or wrong way" to document your life. "You can show us your life or just talk directly to the camera. Your footage can be 15 seconds or 2 hours."
Against All Odds Productions will work to "distribute cameras to individuals in remote regions of the world to ensure that the film is as inclusive and representative as possible," Variety reported. Founded by Rick Smolan and Jennifer Erwitt, Against All Odds Productions previously documented daily life via photographs with the "Day in the Life" book series.
"Over the past five years, You Tube has changed the way media is created and consumed. We're thrilled to give our community the opportunity to work with Kevin Macdonald and Ridley Scott and are grateful to our long-term partner, the Sundance Institute, for their support of this global initiative," Eric Schmidt, chief executive of Google, said in a statement.