Wireless Internet use grew by eight percent over last year with 59 percent of U.S. adults over 18 now using wireless devices regularly. That's according to new data from the Pew Research Center's Internet & American Life Project. The Pew Center surveyed 2252 people asking them about their daily online habits and how often they access the Internet using a laptop's Wi-Fi or mobile broadband connection, or via a mobile device.
(Click image below to enlarge)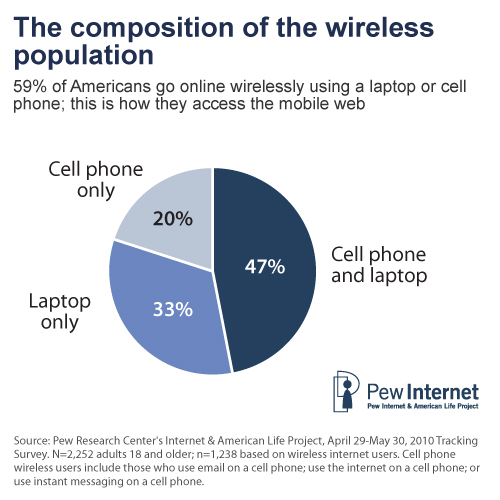 The Pew study found that 47 percent of those surveyed use a laptop Wi-Fi connection to get online, up from 39 percent last year. Forty percent used the Internet through a cellphone, and 47 percent of those surveyed regularly used both a mobile handset and a laptop to get online. Forty-three percent of those surveyed said they went online with a laptop or mobile device several times a day, and another 12 percent did the same at least once a day.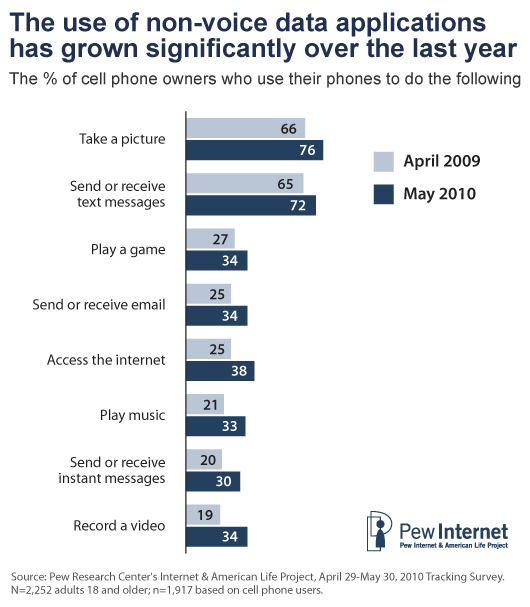 Perhaps thanks to the popularity of smartphones like Apple's iPhone and Google's Android platform, wireless Internet access for leisure or entertainment purposes is growing. The majority of those surveyed, 76 percent, said they used their wireless devices to take photos, and 54 percent of respondents used their handsets to send someone else a photo or video. (click right image to enlarge)
Text messaging remains popular with 72 percent of respondents using SMS regularly, and 38 percent of those surveyed used their phone's Web browser to access the Internet–up from 25 percent in 2009. Other popular uses included gaming, music, Instant messaging and recording videos. Interestingly, only 34 percent of respondents said they used their mobile device to send or receive email. Also, despite the popularity of Facebook, only 23 percent said they used their device to access a social network, and only 10 percent said they used their phone to send or receive status messages on services like Twitter.
(Click image below to enlarge)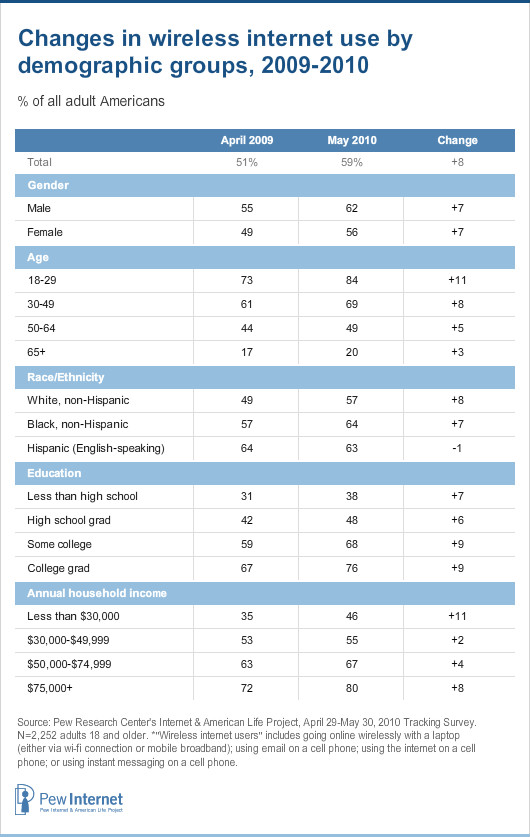 Continuing a trend from 2009, the Pew Center said wireless use continues to grow among minority groups with 64 percent of African Americans and 63 percent of English-speaking Latinos– by comparison 57 percent of white respondents were wireless users.
Regardless of race, the younger generation continues to dominate the wireless age with 84 percent of those aged 18-29 using laptops and cell phones. The second largest group of wireless users were those aged 30-49 at 69 percent, and 49 percent of adult Americans aged 50-64 used wireless Internet access. The Pew Center's study also said that Wi-Fi and mobile device use grew the most among college graduates and adults earning less than $30,000 a year.
If you'd like to check out the Pew Center's full wireless access report, you can find it here.
Connect with Ian on Twitter (@ianpaul).